If you're planning your first Disney cruise, then you probably already have a checklist of things you're preparing. And if you haven't yet figured out what the heck to do for Pirate night, I gotchu!
There is so much fun and excitement that goes on during Pirate night.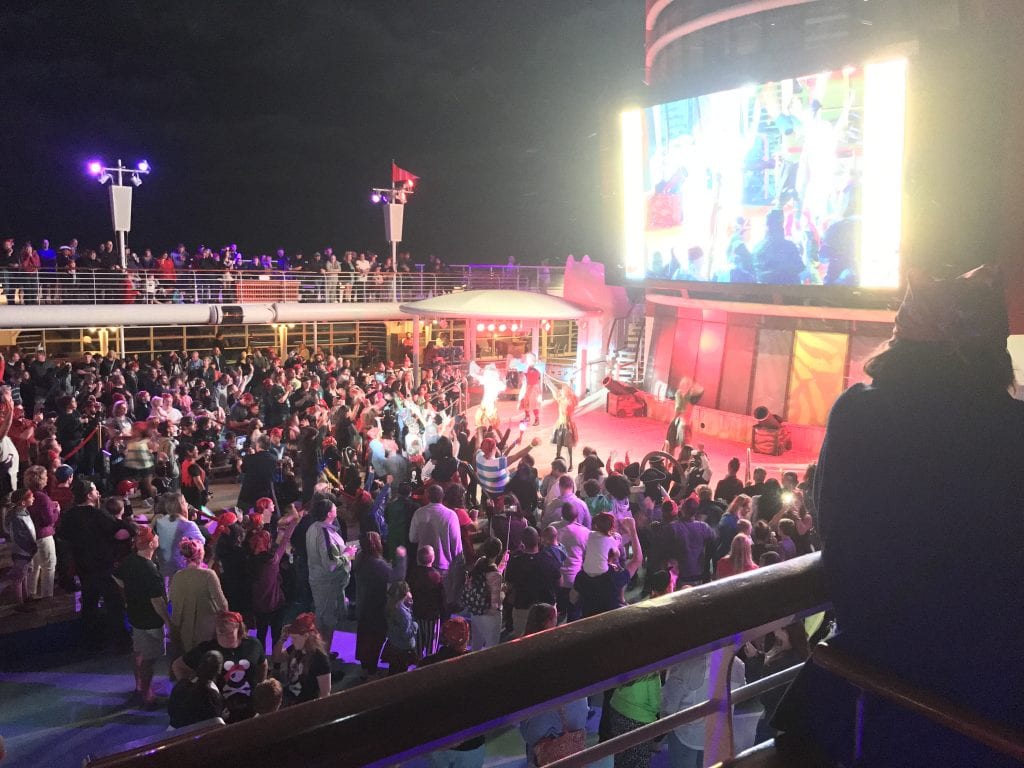 What is Pirate Night on Disney Cruise?
It is truly one of the most talked about nights on a Disney cruise. It's like three parties all wrapped into one awesome night that involves a complete fireworks show. Yes, in the middle of the ocean. The first time we went in 2017, I was blown away.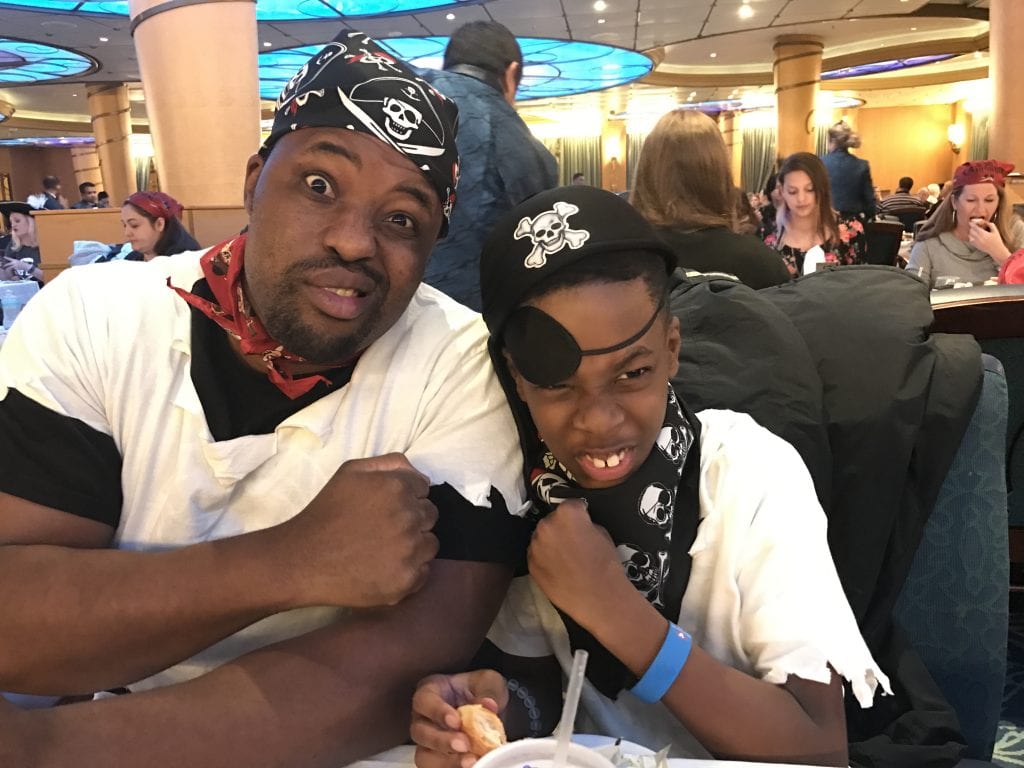 Show off your Pirate Style!
I'm so glad I was in a Facebook group with other people who knew all about Pirate night when we went last year. I had no clue about anything. But I'm so glad I found out because I was able to scour Pinterest for an easy Pirate outfit for the family. This was super easy to do.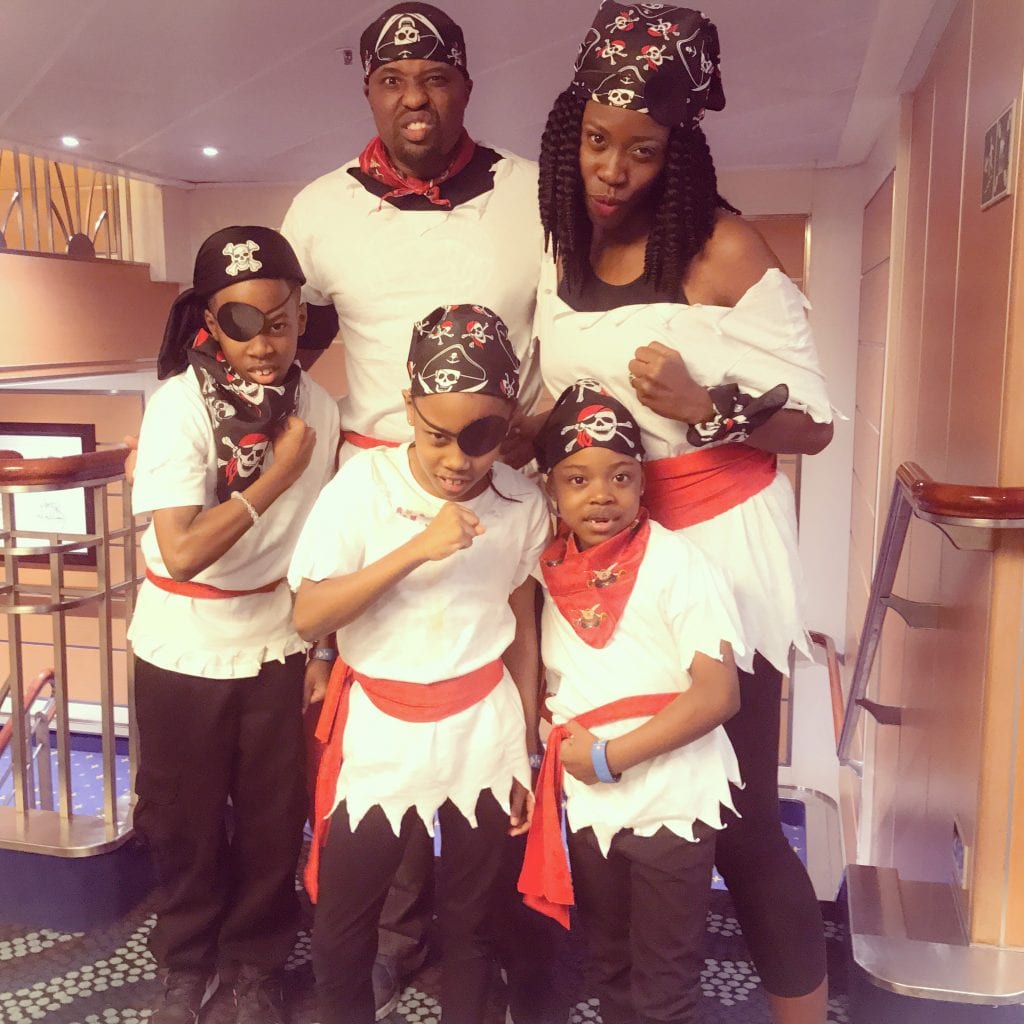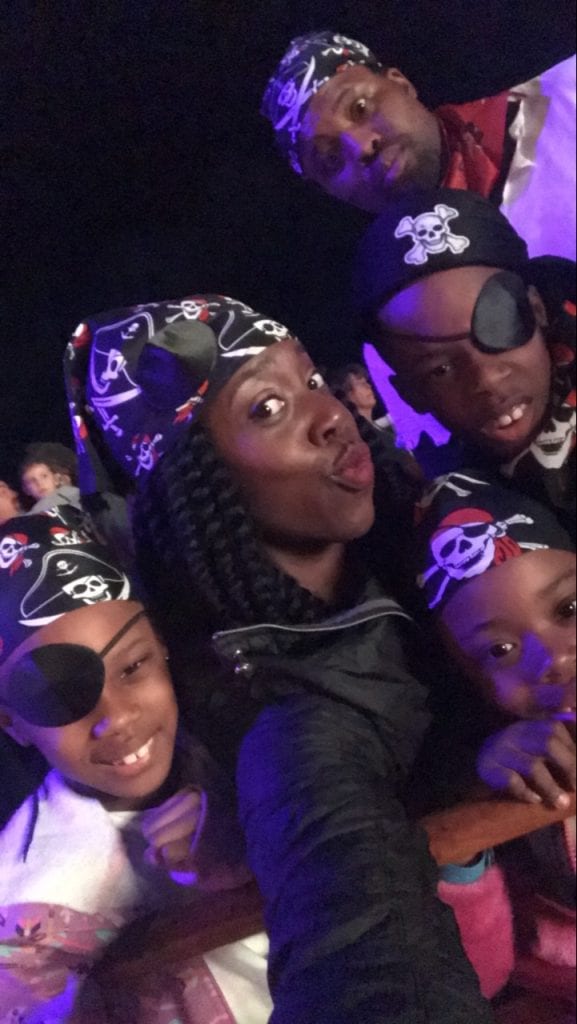 What kind of pirate are you? Basically, you can go all out with full pirate gear, costume, etc. or something as fun/plain as a pirate theme Disney t-shirt. It's totally up to you.
But you want to do something just cause it's fun.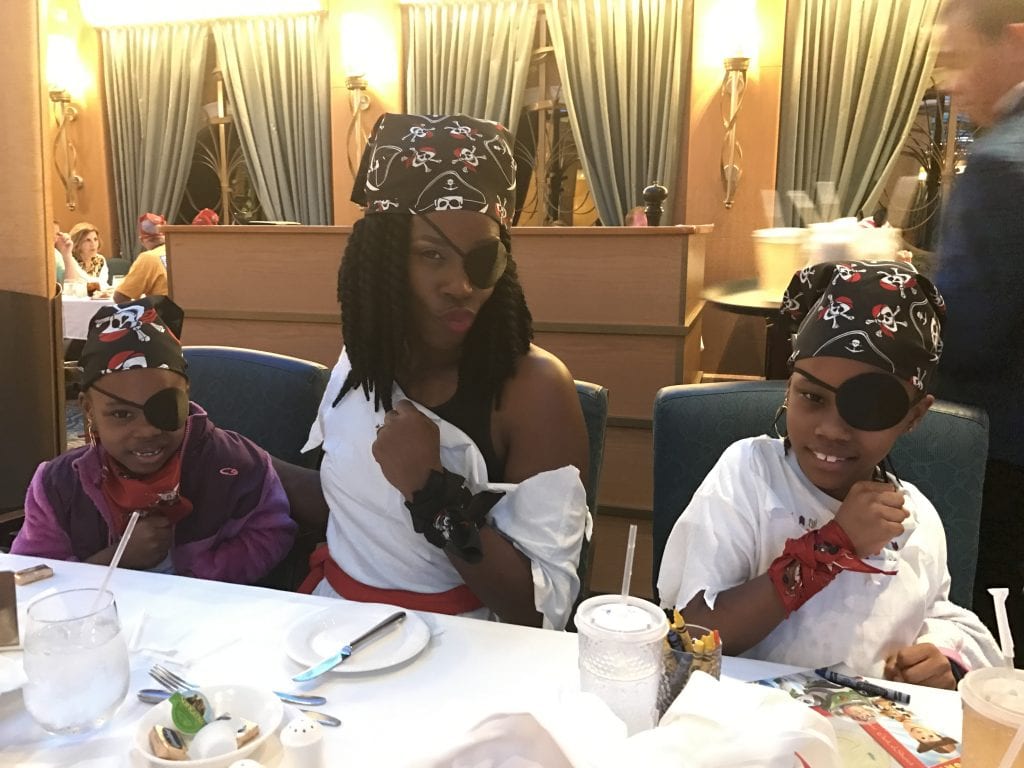 This year, I wanted to switch it up a bit and do something that didn't involve me having to cut up or make anything. I also was able to use some of our red jersey material as well as the bandanas from last year. Some part of all of our outfits were purchased on Amazon.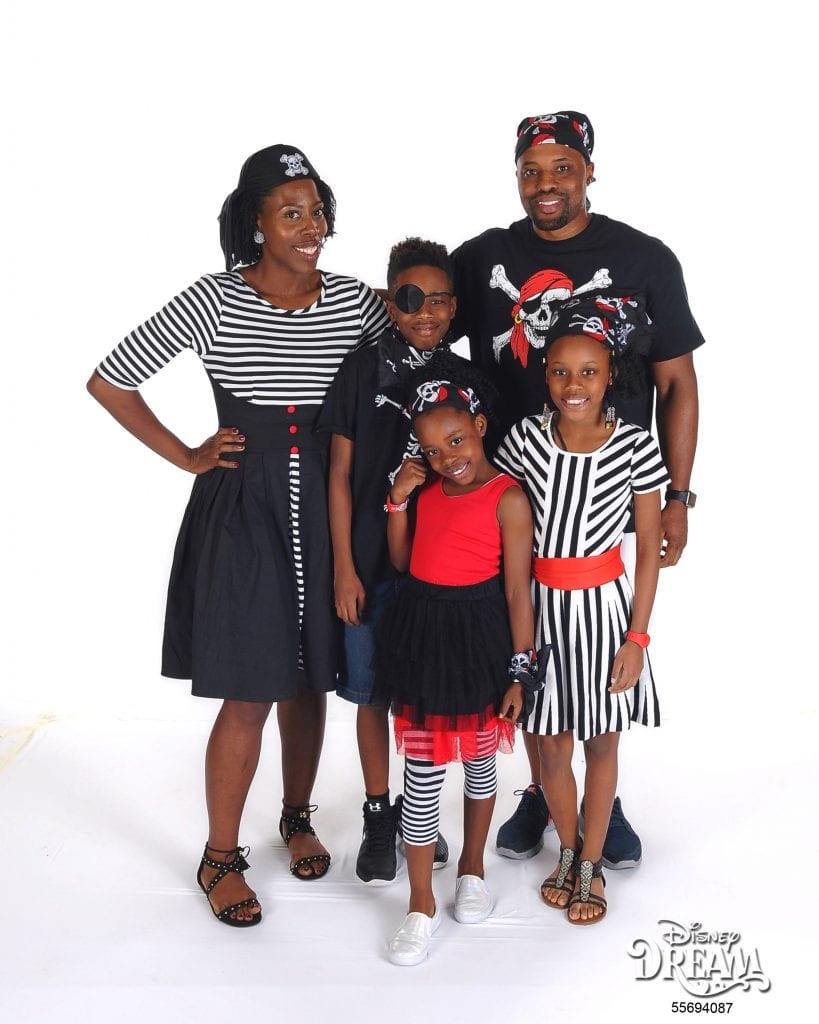 My son's "dabbing pirate" tee was also found on Amazon. We recycled his eye patch from last year. My 6-yr old added her black tutu over top of her red tutu dress and I thought it worked perfectly. We bought a plain striped dress for the 8yr old on Amazon and used the same jersey material from last year to tie around her waist. Voila!
Shop the looks here:
The tights ended up being too small. So we just cut the footies out and made them leggings.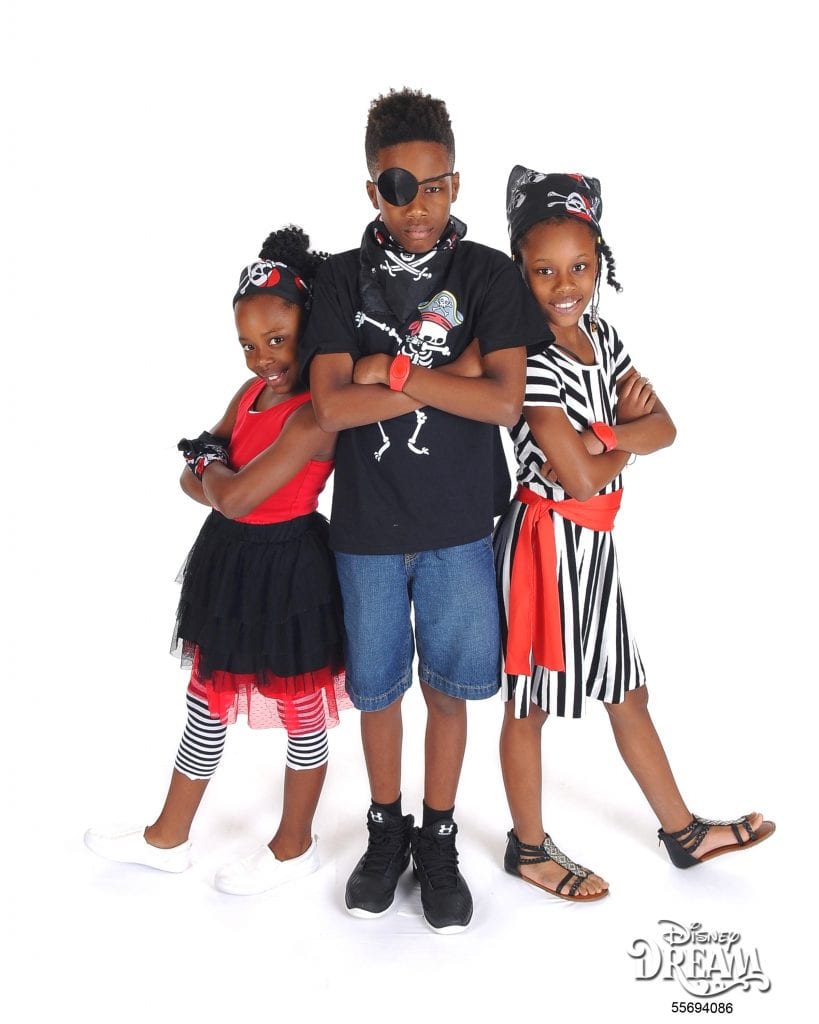 6 Things to Look forward to on Pirate Night
1. Pirate themed Bandanas: I didn't know we would receive these in our stateroom the first hear we went. So we ended up buying a 12-pack of pirate bandanas off of Amazon.`
2. Secret buffet: Well, it's not really a secret. But if you don't know about it or read the full Navigators (on the back) delivered to your room, it's easy to miss. This late night buffet has all the pirate goodies and treats. We had a late seating dinner so I never actually got to indulge in it. But everything looked good. How cool are these watermelon pirates?!
3. Rum Dole Whips: What I DID get to enjoy was the dole whip with rum. LaToyia and I thoroughly enjoyed this treat during the Pirate night party. We got them right on deck so we never had to leave the party.
4. Pirates, pirates everywhere: Not only do the guests get their pirate on. But everywhere you go, you'll see staff decked out in their best pirate gear as well. From the restaurants to the bars, you will be in good company with other pirates.
5. Fireworks in the middle of the ocean: What more needs to be said? This is an absolute must-see. You can get a sneak peek in my video below.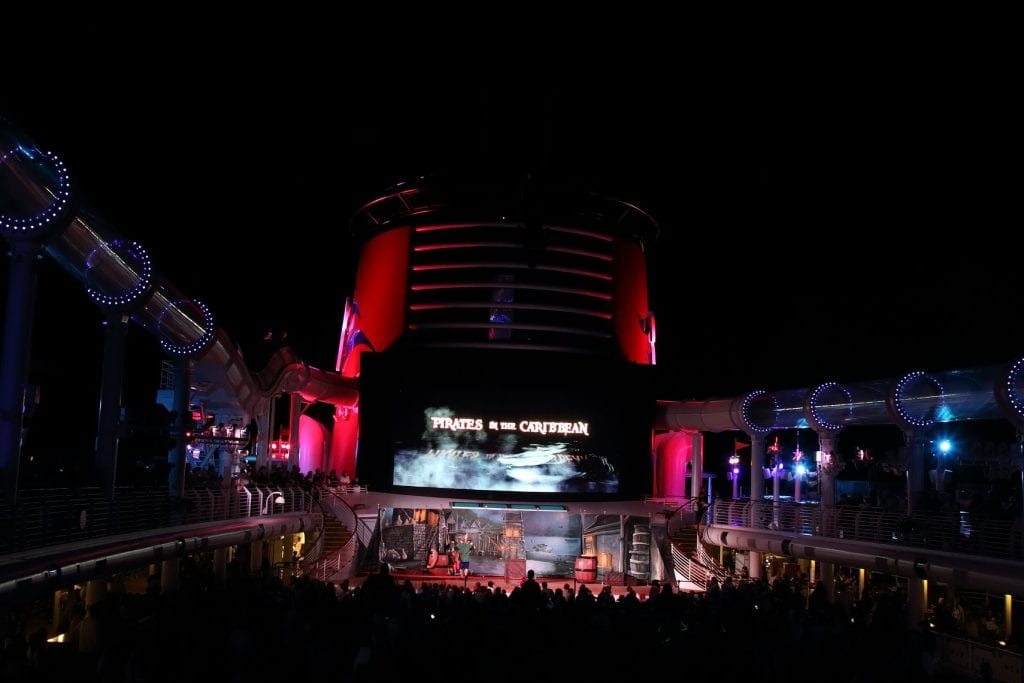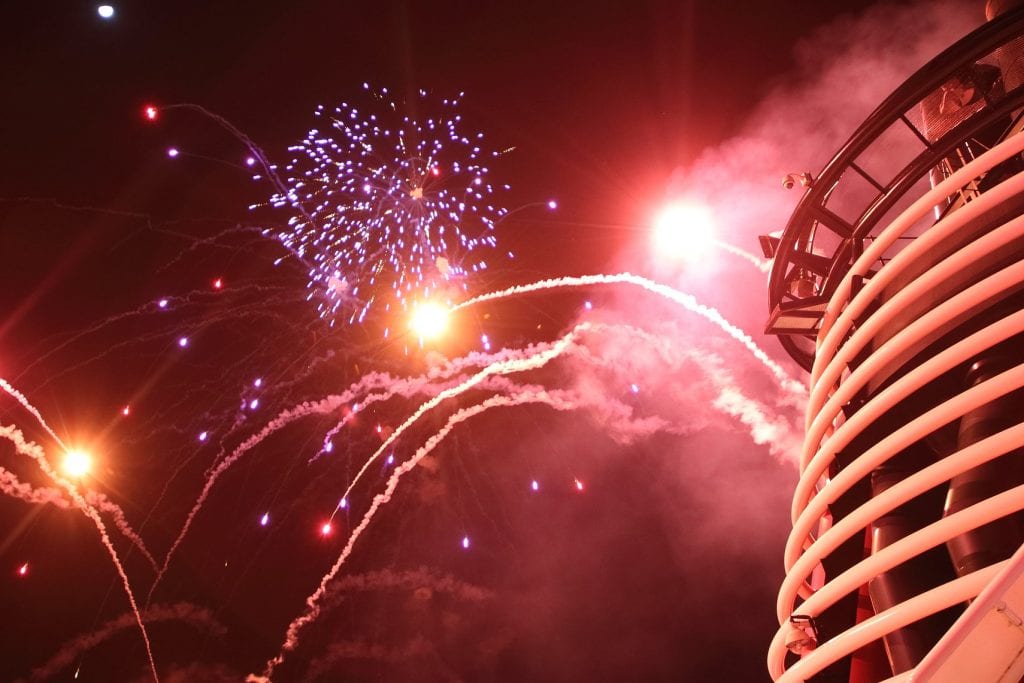 6. All feet on deck dance party: I love to dance so beyond the fireworks, the dance party is my favorite part. And my girls were getting down right along with me. You know it's a good dance-off when you are drenched in sweat the layers start coming off LOL
Do you really need to go?
Ummm YES!!! Yes, you should go and stay until the very end. Young kids, tweens, teens and adults alike will love the show.
Watch the fireworks show from our 2017 Cruise on the Disney Dream
Check out these other posts of all things Disney from my friends for #WaltDisneyWednesdays!
---
I paid a reduced rate to attend the Disney Social Media Moms Celebration (#DisneySMMC) along with my family. By attending, we received free products from sponsors, accommodations, park tickets, and some meals.  As always, all opinions are my own. This post contains affiliate links.