If you follow me on social media (which you really should 😉 ), you would've seen that I recently revisited my love for roller skating. I'm talking about old school, real roller skates, not the roller blades (imposters). I had been talking about getting some roller skates for a couple of years. But it wasn't until we took our girls out on a gorgeous Spring day to ride their skates, that the itch came back full force.
This was the first time they got to really break them in. But they had been practicing in the basement all winter long LOL. They are definitely way better skaters than I was at their age. Actually…I didn't know how to skate at their age.
They were having so much fun but they wanted me to join them. So I did what any momma would do: I went out and got me a new set of wheels!
Well, yesterday was another gorgeous day. So we took advantage of it because around here, we have to take it while we can. We got our roller skates on and started rolling around the neighborhood.
My daughter kept falling…she had at least 5-6 falls. Luckily she didn't get too hurt and there weren't any scrapes. So I kept reminding her why it was so important that they wear elbow and knee pads, as well as their helmets. I'm sure there would've been some blood without them. But she got discouraged after about the fifth or sixth fall and was getting ready to go take her skates off.
When I asked her why she wanted to stop skating, she told me because she kept falling, and she didn't want to fall anymore. Being the person I am, I wanted to encourage her and hopefully keep her from quitting for that reason.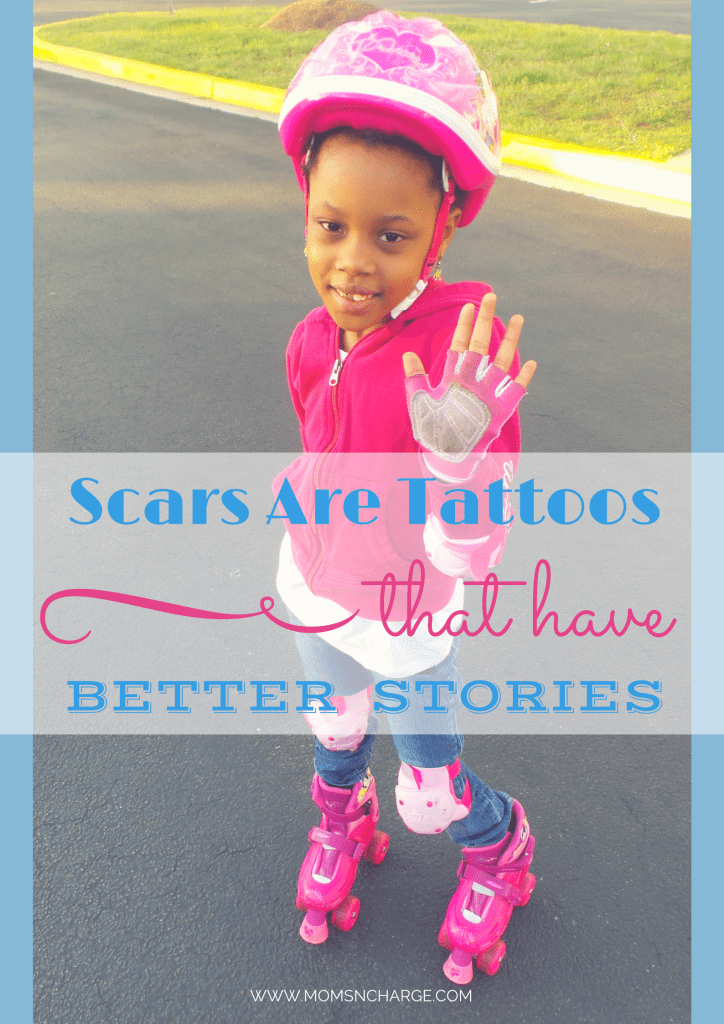 I explained to her that it does hurt when you fall. But I also shared with her how many times I fell when I was learning how to skate (more times than I can count). I told her how many scrapes and cuts I got from trying to teach myself how to skate, which are now scars. But I told her the best part: the scars will heal. I shared with her that it took me a while to learn how to skate without falling because I had to keep practicing. I had to keep getting up even when I wanted to quit. But every time I got hurt, it never lasted. It was only temporary.
So much to my excitement, she decided to keep skating with me. She told me that it will be okay if she falls because the scars will heal.
And just like in life when we get knocked down by situations or circumstances, the scars will heal. It may not be right away, but they will definitely heal.
How do you keep your kids encouraged and motivated when it comes to something that discourages/frustrates them?