When I started Moms 'N Charge in 2012, the idea was to get moms like myself to take charge of all areas of their lives – their families, their physical, mental and overall health. Being a FLY mom is all about learning how to take care of yourself from the inside out. A major part of me finding my identity and falling in love with myself, started when I began to really take care of myself. That included healthier eating and exercise.
So I'm delighted to introduce my friend and colleague Neneh Diallo to the Moms 'N Charge community. She is a dynamic mom, wife, career & business woman and so much more. What I love is that she makes her health and taking care of herself a non-negotiable. She proves that even as a mother of four, you can still make yourself a priority. Neneh will be sharing a series of posts on how to be a FLY and Fit mom. Thanks Neneh!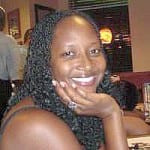 The following post was written by Neneh Diallo. Neneh Diallo is an author, speaker and entrepreneur. Neneh put her skills as an avid listener and communicator and her passion to help women navigate through their life changes and achieve their goals and founded LaTigra Strategies, an executive and life coaching organization. Neneh is passionate about helping women get unstuck by awakening their ROAR, "through Reflection we find Opportunities and set an Action plan for attainable Results."You can connect with Neneh through her website, and on Twitter. You can also e-mail her: neneh@latigrastrategies.com. Neneh Diallo is an author and blogger for Stilettomoms.com
It's 6 a.m., and my alarm goes off.  "Get up! You want this," the voice in my head tells me. And I do. But it's so comfy and cozy in my bed! It's too early to be running and lifting weights. Oh, right, I forgot to mention that the reason why I'm dreading getting up is because I have an hour-long session with DaJohn, my personal trainer, who is going to kick my butt!
I count myself among the millions of women who believe that staying fit and healthy is key to living a long life, and most importantly, key to being able to keep up with those "little people" for whom I'm responsible. I've got three children under the age of six and one 17 year-old who still needs to be managed. Never one to shy away from exercise or the gym, I renewed my commitment to being fit and getting rid of the baby fat after the birth of my twins almost three years ago. Lucky for me, I only gained 30 pounds with them, reaching a whopping 190 pounds. But I started at an already heavy 160 pounds for my 5'5″ frame. It was time to get my body back.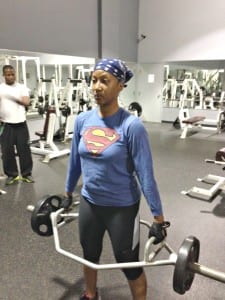 I trained for and completed my first triathlon and ran my first half marathon. With my guerrilla-type workout I was able to drop down to 145 pounds. The last time I was that small was over 10 years ago! I felt good. I felt healthy. I could fit comfortably into my size six jeans. And then I got comfortable. "Oh, one milkshake won't hurt me." "I haven't had a Five Guys burger in a while, this one time will be OK." See where I'm going with this? So today, as I lie in bed dreading my upcoming workout, I remember my starting weight of 158 for this program. I had managed to regain 12 pounds. But more disturbing than that were my "before" pictures. I didn't like what I saw (and until I finish the program, you won't see those either!) I looked at myself and was more disappointed that I had let myself regress.
Fitness and healthy eating have to be a lifestyle. My brother, who is a personal trainer, tried to ingrain that in me. I was either training for a race or my vow renewal event.  My whole mindset has to adjust that there is no "end goal." My training is for life and to be around long enough to watch my "little people" grow into adults and pass down healthy lifestyles from their mama.
So to kick start my new healthy living, I've teamed up with my trainer DaJohn for a 12 week program to get FLY & Fit for life.
It's now 6:20 a.m. I'm out of bed, eating my banana, drinking my coffee and getting ready to bring it!
Hey moms, what types of exercises do you like to do to get your blood flowing and your heartbeat racing?