Welcome to another edition of Mamas Mashup! Thank you so much to everyone that joined us last week when we dished about co-sleeping. Each Monday, Heather Hopson (Diary of a First Time Mom), Sheree Adams (Smart N Sassy Mom) and I will tackle hot topics submitted by you, the reader, and agree to disagree. We'll take turns hosting the Mamas Mashup on our individual sites and dish about everything from spanking and breastfeeding to co-sleeping and homeschooling.
We'll continue the chat online using #mamasmashup. Don't forget to use this hashtag so that we can actually see and reply to your comments. Who's side will you take? Join the conversation today! Follow us on Twitter (@MamasMashup) & Facebook. You can also email your topic ideas to mamasmashup@gmail.com
Today's topic of discussion is: Black Friday Shopping.  Do you love the fact that stores are opening up so early, or do you stay as far away from stores the day after #Thanksgiving?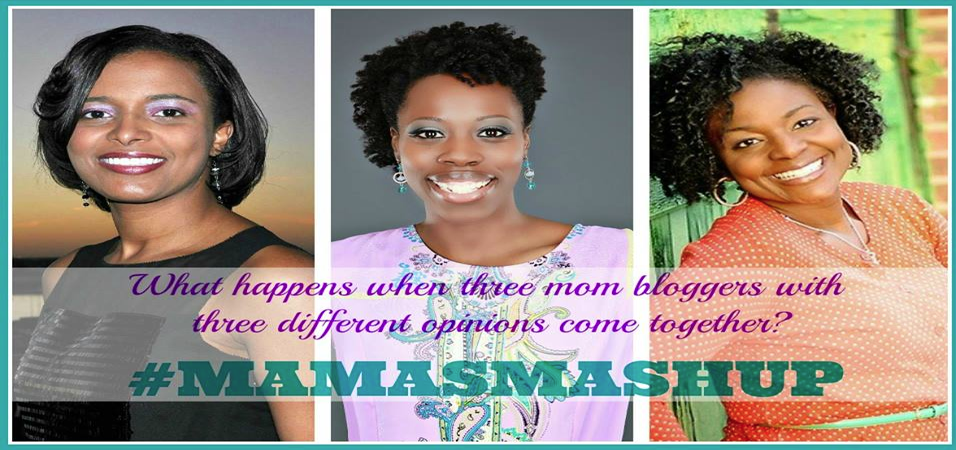 Christine: Ok so last year I wrote a piece about why I don't go shopping on Black Friday. I thought it was out of control then. But now…it's just getting ridiculous. Did y'all know that some stores are opening up at 9am….ON Thanksgiving Day??? So instead of spending this holiday with their families, employees are being forced (now more than ever) to go to work or risk losing their jobs. I know they (employers) are only catering to what the market demands, but geesh!
Sheree: I'm not going to act like I've never been shopping on Black Friday, nor will I say that I will never go again. Anything in moderation is not a killer.
What is a killer is people mobbing each over TVs a couple of hours after giving "thanks" for their many blessings. It sends the wrong message to the kids, who by the way shouldn't even be out there in all that mess in the first place. I love a good sale, so thank God for Cyber Monday!
Heather: I feel bad that people have to work on a holiday, but that comes with the job. When I was a television reporter, I worked every holiday except Christmas, and that's only because my Jewish friends covered the shift. Once I called off on Easter due to my grandmother's wishes. I didn't get fired. Companies aren't saying don't celebrate Thanksgiving. You can opt to stay home, or perhaps you can serve dinner a bit earlier.
Can't blame a company when customers are buying what they're selling. Heck, after dinner last year, my daughter and I went to Target. It's up to me to set my budget and not go into debt to make  Christmas merry. By the way, my toddler's favorite game didn't cost a dime. We play pretend.
Christine: I agree with Sheree. I've never been a fan of shopping in big crowds, so I've honestly done the Black Friday shopping one time and that was enough for me. It wasn't worth all the hoopla.
I just feel like the essense of the holiday season equating to family time is slowly being pushed to the wayside. I wonder what would happen if people boycotted Black Friday (which we shall now call Thanksgiving shopping day) for one year?
Sheree: You know what? They [stores/society] are really over-commercializing the holiday and I think it makes us forget the reason for the season. I, personally, think that it smells of "desperation" to get sales and that just sickens me. On top of that, the fact that stores opening and making people work on Thanksgiving is horrible. Just HORRIBLE.
Heather: So is it the company or the customer that's out of line? Walmart isn't forcing you to break the bank, live in yo' mama's basement and drive a car that costs more than my yearly college tuition. Major chains aren't cancelling Thanksgiving.It's a business. I've even shopped on Christmas. Not at the mall, but I've gotten gas and even a last-minute gift card in a convenience store. That doesn't mean I don't know the reason for the season. Wonder what would Jesus do?
Christine: Ok Heather, I think that's a bit much. Getting gas and going on a shopping spree are two totally different things. What would Jesus do about all this crazy shopping? I think we already know. LOL Honestly ladies I really think that's the problem: the over-commercializing aspect, which leads to greed and people forgetting the true reason for the season.
So what do you think moms? Has Black Friday shopping gone overboard or are you on board with it? Let us know in the comments and then follow the conversation on Twitter using #MamasMashup