Today's post it brought to you by Kaywanda Lamb. Kaywanda's journey started when she was left to parent a 2-year-old and a 2-month-old alone. Holding her babies, crying and cooking dinner, she decided they would always have what they needed. After successfully raising her boys for 15 years, people began to ask how she did it.
She began coaching single moms in the areas of parenting and purpose and dating confidence. She also hosts luxury brunches with a relationship panel portion filled with experts called Brunch and Love. Her next event is July 22, 2017, in Washington, D.C. with matchmaker and relationship expert Paul C. Brunson, Troy Spry, Pamela Booker, and Ella Rucker. Join them at bit.ly/brunchlove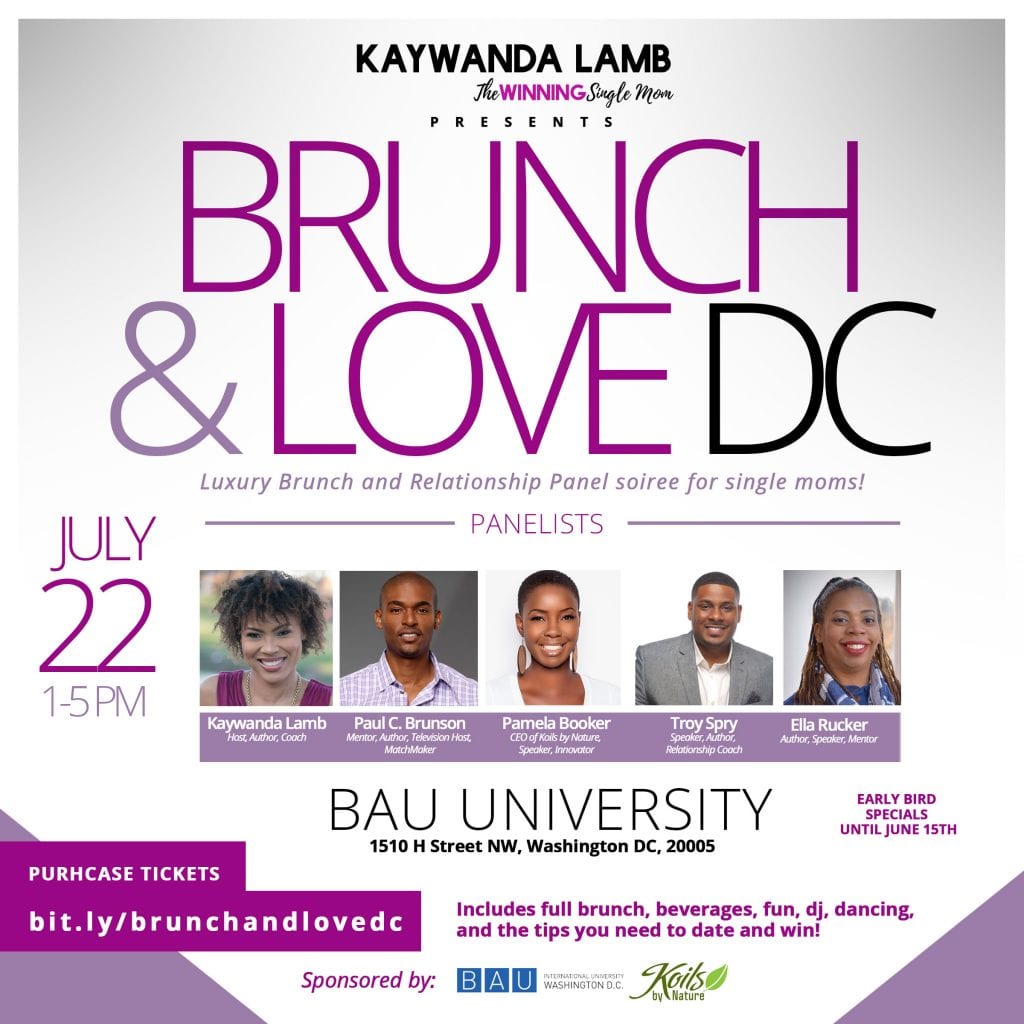 Let's face it, parenting is hard. We love our families and do it all. We conquer the world and barely find time some days to give ourselves what we need. Who has time for love? But love is what we also need. We're beautiful, vibrant, brilliant, good women who also deserve good love. So, how do you level up your love life with so much to do? Read on for 5 tips to level up your love life, to spark a flame and get you out of the "ho hum" of life and back into the dating game.
1. Face the fact that it's time to get back in the dating game
This is an interesting starting place because many women, myself included, do not think about the time that is being lost or misused by avoiding the dating game. Sure, you say you're focusing solely on family, but the truth is you want and need love too.
I've been a single mom 17 years. Listen Linda, I could have and honestly should have cut that time in half. But, we all have our journey. I've dated over the years and almost married. But truthfully, I hid a lot during that time because I was afraid of choosing wrong or picking wrong. AGAIN! If that is you, deal with it, and say, "I deserve to receive and give good love. I choose me. No matter what, I will make sure me and my children are first. But I can also be loved and be a great mom."
So, what is your timeframe? It's okay to be single as long as you want. It's not okay to hide. Your kids need to see you happy, and they also want you happy. Make up your mind to put you and your needs on your to-do list.
2. Decide what you want in a mate before dating
At this point in the dating game, you've got to do the things all the fancy gurus are telling you to do even though the old-fashioned way still works. You know? Date this one and date that one and figure it out as you go along. You could do that. Or, you could make a list of what you actually want in a relationship and keep that as your guide so you can catch the good candidates who actually line up with your values and important desires in a mate. Or, you can wing it. I vote for the list.
Now, I don't mean make a long list of must haves that includes tall, dark, and handsome. Physical attraction is very important, but it isn't everything. What you need to get to the bottom of is what do you really want in a mate? This will require you surveying your past and dealing with what was a good relationship and what wasn't. Think about who you are now because you've grown. What do you want to experience daily: love, respect, loyalty, support, friendship, etc. Dig deep and write it down. Let's call this your "Love Interest List."
After you make your list for your potential mate, you must make a list about you. For example, are you exuding the qualities that kind of man wants? Tough question and don't be sad if you aren't. This is your opportunity to level up. Your single season is a great time to refresh and renew. So, do the work now and you won't have to do it in your relationship.
Also Related: Single Mom – Are You Ready to Date?
3. Know what you will and will not take
This goes in line with point 2. When you do point 2, you are sure to easily ace this section. You know you and what you will and will not take. The problem comes in when a guy who isn't your type becomes your boyfriend and you're dating him to "see where this goes" instead of sticking to what you know to be true. So, I encourage you to get back out there, but to do so with a plan and full knowledge of the fact that you are worthy and you deserve good. You do not have to settle.
4. Refresh your wardrobe, hair, and attitude
Okay, it's been a while. Times change. Seasons change. Treat yourself to a spa day, pampering, a new hair-doo, and a fresh update to your look. You know why? There is something spectacular that happens to us when we leave the nail shop, the beauty salon, and the mall. We KNOW we have it "going on." I want you to operate with this extra confidence boost, and I want you looking your best. Girl, go get it!
Just like you want a man who is on point physically, financially, and emotionally, he wants the same. Going back to the love interest list, did you put you don't care what he looks like and he can approach you any kind of way? No, right? Put that extra effort into you and it will add to your allure.
Lastly, in the "get right" category, I want you to put away any negative ideas or attitudes that might mislead any dates about just how amazing you are. Free your mind, prepare for the date ahead of time, clear your space, and have a blast.
5. Get social
Now it is time to date honey. Where do you start? You start with your confidence and a new outlook on life and you live fully every day. As you are going about your day, smile and be aware of your surroundings. You can meet potential mates just about anywhere you are. You can also get social online. This allows you to learn something about people, chat first and see if there is a connection and a reason to meet offline. You know where to find the types of people you like. Be there and be found beautiful, excited, and living.
I hope these 5 tips help you get excited about getting back in the dating game, help you level up in some areas you may have overlooked being busy making the world go round. That rocks by the way! But, take time for you. You can do both. Comment below and let us know what you think! Most importantly, get ready for love!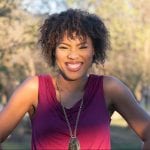 This post was written by Kaywanda Lamb
. Kaywanda Lamb is an author, coach, blogger, speaker, and event host. She is called "The Winning Single Mom" and teaches new and experienced single moms how to win in life by chasing their dreams and parenting well at the same time. She has written the "get your life together" guide for single moms called "Do It Anyway! The Single Moms Guide to Living Life and Achieving Her Goals." And, she has also penned a devotional for single moms called "Parent, Thrive, Win! A 31 Day Devotional for Women Who Know God Has Called Them to Be More." Find her books as well as practical advice for the single mom life on her website KaywandaLamb.com