I'm one of those people that does not watch the news. I don't normally watch it because it is usually sad and depressing. And since I have little ones, I also have to be mindful of what I allow to take up space in their subconscious minds. So naturally, when I heard the news of the shootings at Sandy Hook Elementary School in Newtown, CT, I saw it first on my Facebook news feed. Like many others, I went through a series of emotions with disbelief and denial at the forefront. As I shared on my Facebook page, I just could not fathom the thought of being in any of those parents' shoes. I felt so helpless even as I prayed for all of the those involved, and the loved ones who now have to learn how to live without their brother, sister, daughter, son, mother, wife or would-be fiancée.
Ever since the news broke, like so many other parents, all I've wanted to do was hug, cuddle, kiss and hug my kids some more. In fact, I was a little uneasy sending them off to school today because I wanted to spend more time doing just that. My husband had brought up the subject of homeschooling in the past, but this time it was me to strongly considering the option for our children. It was my initial "Mama Bear" reaction to thinking that I would actually have some kind of control of, and be able to predict or alter the dates in which they will be called home to paradise. I bought the book, "Heaven is for Real" last year, but I only just read and finished it last week (if you haven't read it, it is definitely a must-have and they also have a children's version of the book). The book is about "a little boy's astounding story of his trip to heaven and back".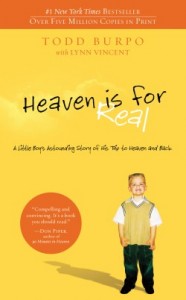 Not only was Colton able to talk about what he experienced during his short trip to heaven, but he was able to give intricate descriptions of what and who he saw – details that he only could've known by actually taking that trip to heaven! The one thing that kept popping up into my head after hearing of the news in Newtown, CT, was what Colton kept reiterating about his trip: that Jesus really loves the little children. He made it a point to tell his parents over and over again about how much Jesus loved all of his children. But what brought me to tears was when he told his parents that he met his sister in heaven – the sister that his mother had miscarried…the sister that they had never even mentioned to Colton…the sister that they had not even known was a "sister" because they lost her so early in pregnancy. As someone who has suffered a miscarriage, the reminder that I will one day be able to meet my precious baby that I lost six years ago brought a comforting sense of peace over me. After reading reviews about the book, I knew I would be moved by it, but I was not expecting to be healed by it. There is so much more that this book unveils about the paradise that we can only dream about and read about.
I know as Christians, we are taught not to fear death. But most of us would be lying if we said that we didn't fear it for ourselves or for those we love so dearly. Matthew 24:36 says, "…no one knows the day or hour when these things will happen, not even the angels in heaven or the Son himself. Only the Father knows." We may never know why these children and teachers had to lose their lives here on earth just days before Christmas. We don't know when our time will come or when our children's time will come. But what we do know is that we must remain steadfast in praying for protection especially over our children. What we do know is that we must also guard our hearts from the negativity and evil of the world. What we do know…is that heaven is for real.
May all of the victims of the December 14th shooting in Newtown, CT rest in eternal peace. And may all of their loved ones seek comfort in knowing that they will one day meet them again.
Joy is a protest. It is a stance that says I refuse to let the darkness of evil conquer the light of Christ in my heart. ~Father Paul Dressler.