Hopefully, by now you've had a chance to follow me on social media, as I shared some of the amazing experiences we got to witness. This past weekend, the 10th Annual Disney Dreamers Academy (DDA) kicked off. There is so much I'll be writing about in the upcoming weeks and months. But for now, I wanted to give a quick(ish) recap of the weekend.
We packed more in these four days than most people can pack in two weeks. And it was all worth it. I am forever grateful to be able to witness the amazing power of impact that these Dreamers will remember for the rest of their lives.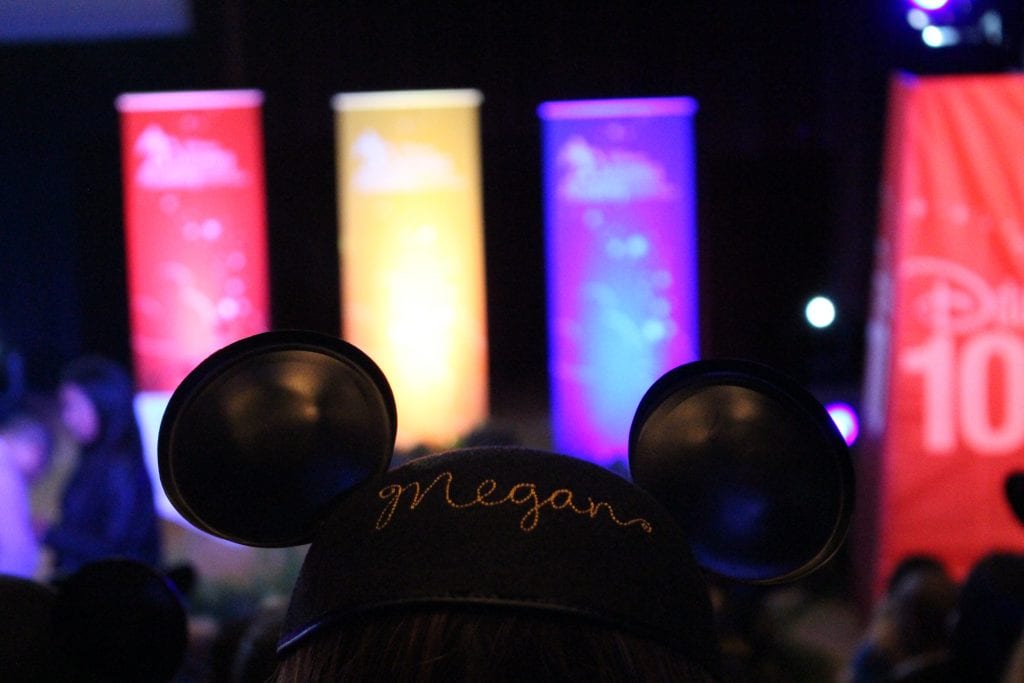 Thursday 3/9: Day 1 of DDA – Kickoff events
I flew into Orlando early Thursday morning. I caught Disney's Magical Express to the Animal Kingdom Lodge where we were staying, and it was time to meet our group. Sidenote: we had THE most amazing Disney reps that were with us the entire weekend and made sure we got to where we needed to, as well as had anything we needed.
We had a media only luncheon which was absolutely everything my taste buds needed and more. Seriously, I ate like a queen all weekend long.
After our luncheon, we then headed over to one of my favorite parks: Magic Kingdom®. We wanted to be on the front lines when the Dreamers walked in their special Pre-Parade welcome event.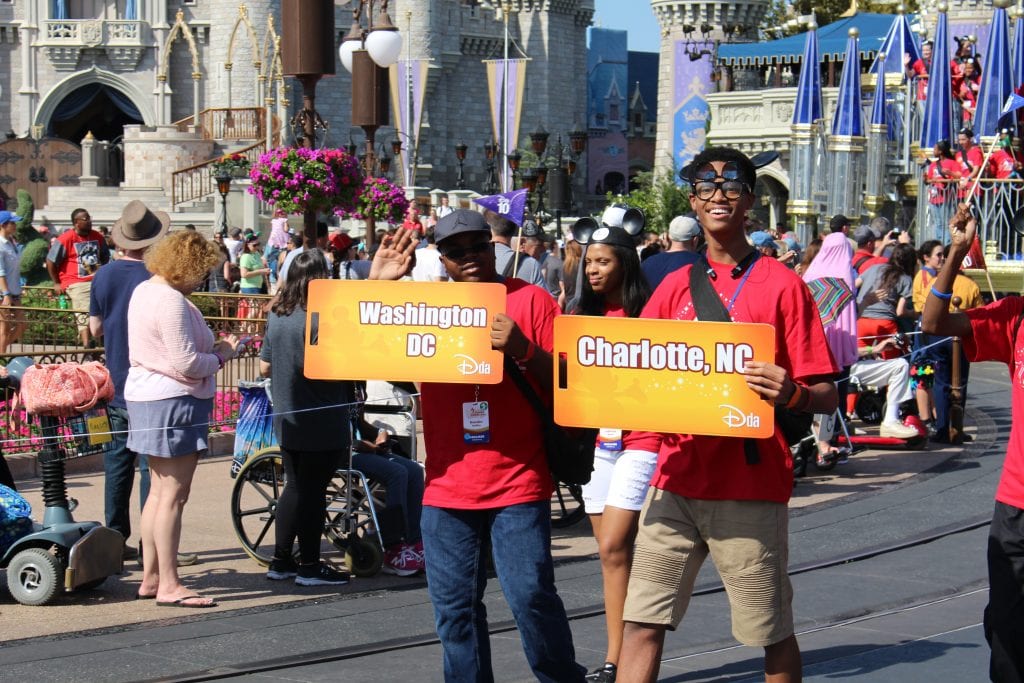 We then had the official DDA welcome ceremony at the Circle of Life Theater. Speakers at this welcome event included Mikki Taylor, Yolanda Adams, Steve Harvey, and the big boss himself, Mickey Mouse! They also introduced the Speaker Resource Group.
After the ceremony ended, members of the media were able to have an intimate press conference with Steve Harvey, Tracey Powell, Michelle Ebanks and select DDA Alumni (more details on this later).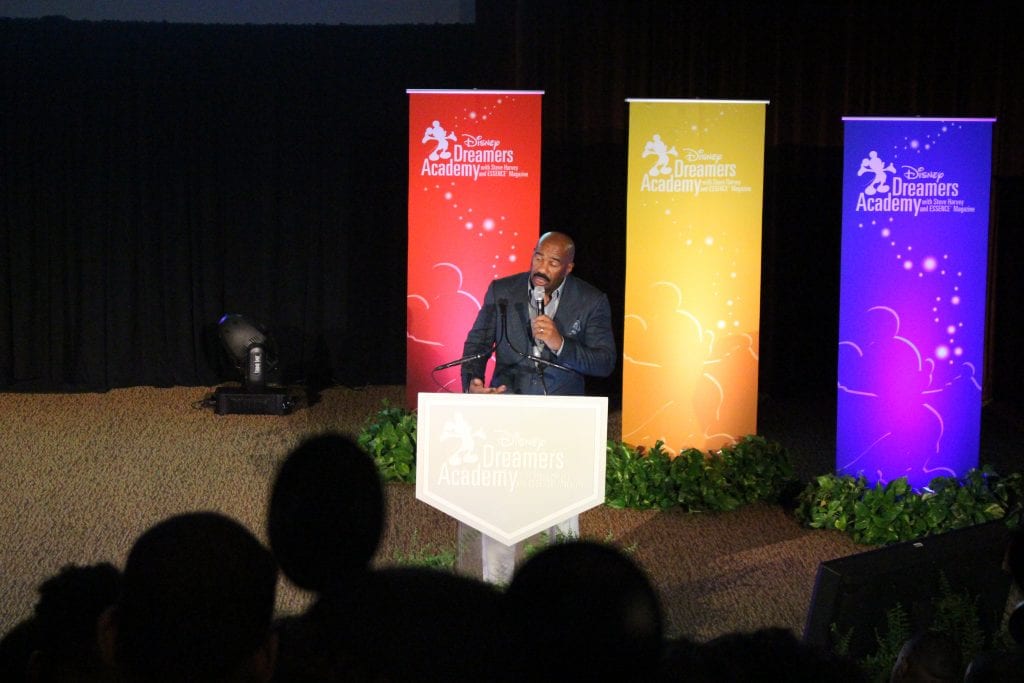 The evening concluded with a special media dinner hosted by the Disney Public Relations Team at the Test Track® Attraction.
Friday 3/10: Day 2 of DDA – Speakers & Deep Dives
Our first full day started at 7 am when we had to meet our groups in the lobby. We then headed back over to Epcot where the majority of DDA events were held.
There were morning speakers and we also got to chat with some of the Dreamers (some of which I'll be sharing their stories here on the blog). I got to chat with Jonathan Sprinkles and Wynton Harvey, and look forward to sharing their tips on dreaming big.
One of the things I really love about this event is that they have programming for the parents which is separate from the programming their children receive.
Also related: Engineering & Disney: They Go Together
The afternoon was filled with peeking in on the deep dives that the Dreamers were participating in. Deep dives essentially allow them to get hands-on experience working in the career fields they are interested in working in. Click here for more info on how these will be shared.
We ended the night with a fun dinner at STK restaurant in Disney Springs, along with the amazing PR team who worked tirelessly to put all of this together. The food was absolutely delicious, so be sure to check it out next time you're there. They were also kind enough to give us some shopping money to spend while at Disney Springs.
Saturday 3/11: Day 3 of DDA – The Power of Dreaming
It didn't matter who was speaking. When they spoke, you listened and you took notes. I was really impressed with how attentive these groups of students were for the entire event. From Princeton Parker, to Jonathan Sprinkles, to Patrice Washington and Dr. Steve Perry, they delivered powerful tips and talks on the power of dreaming (each in their own way).
We also got to here from two different groups of successful individuals, and hear their stories of how they reached success. They also shared their input and tips for the Dreamers.
It was actually refreshing to see so many men up there giving their tips. They included Christopher Gray, Jaylen Bledsoe, Bryshere Gray, DJ Nasty, Tahj Mowry and Cam Newton. And it was such a great surprise to see and interview Kim Fields (more on these interviews later)!
Sunday 3/12: Day 4 of DDA – Commencement Ceremony & Circle of Life
I will tell you this: I don't think anyone can go to this part of the event and not shed a single tear. It is truly magical in a way only Disney could do it. From the awards and presentations to the keynote from Good Morning America's TJ Holmes, and THE Patty LaBelle's surprise performance, it was simply outstanding.
I interviewed and spoke with a few of the DDA Alumni who are out here making a difference in this world.
In my next post, I'll be sharing some key takeaways that were meant for the Dreamers, but they were also meant for everyone in that room who was listening (myself included).
** Feature image: Disney Dreamers from Washington, D.C. (l-r) Branden Jenkins, Antjuan Goodwin and Jayden Schexnayder pose with Mickey Mouse, Tracey D. Powell, Disney executive champion of Disney Dreamers Academy (center) and Minnie Mouse during the 2017 Disney Dreamers Academy at Epcot in Lake Buena Vista, Fla. The tenth annual event, taking place March 9-12 at Walt Disney World Resort, is a career-inspiration program for distinguished high school students across the U.S.  (Gregg Newton, photographer)
I think this photo below sums the weekend up 🙂
---
This visit to attend the Disney Dreamers Academy was sponsored by Walt Disney World. As always, the thoughts and opinions are my own.  For more information about Disney Dreamers Academy CLICK HERE.