Calling all DC Mompreneurs: Completely Yours Wedding & Events will be celebrating their two-year anniversary on August 11th from 3-6 pm in DC at the Washington Hilton. This year, CEO Jon'll Boyd decided to take a personal approach to honor mompreneurs with the theme "Once Upon a Baby Bump" as she is currently expecting her first child. I think that's pretty darn cute!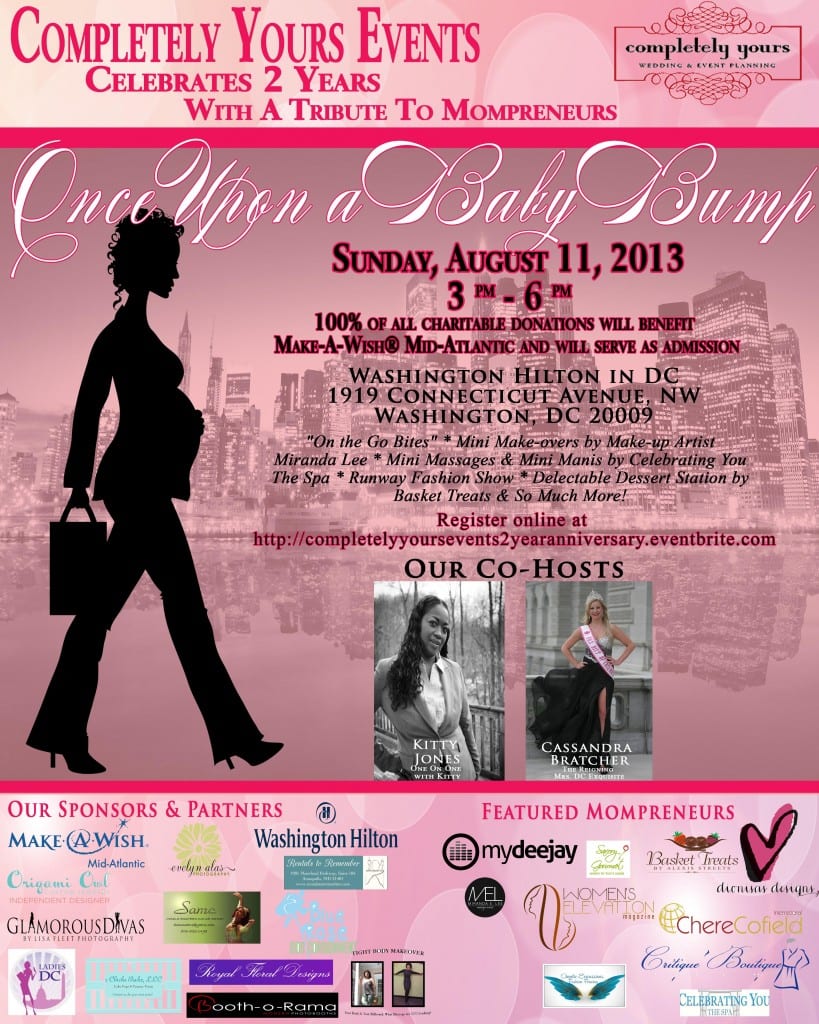 What's even better than the theme is the reason behind this gathering: for mompreneurs to gather together to help grant the wishes of children by raising funds for the Make-A-Wish foundation Mid-Atlantic. "Wishes are the cornerstone the Make-A-Wish Foundation® is founded on and we look forward to seeing every wish come true. Wishes can be small or large, simple or elaborate, but they are all important".
Thanks to generous donors, granted wishes have included a carribbean cruise, trip to Disney World, a shopping spree and many more. Check out these local wish stories.
I truly believe in sharing and promoting events that I know will make a positive impact in someone's life, especially that of another child. So this event is no different. In addition to supporting such a great cause, moms are encouraged to come out and have a great time celebrating YOU! Attendees will enjoy music, spa services, mini-makeovers, a runway fashion show, delectable desserts (Yesssss!) and much more!
While this event is absolutely FREE, attendees are asked to make a donation to the Make-A-Wish Foundation through the event link here. I hope you will join me for this celebration! Check out the details below and don't forget to register:
Sunday August 11th
3:00 – 6:00 PM
The Washington Hilton  
1919 Connecticut Avenue NW, DC 20009.