As if all of the highlights and fun we had on The Last Jedi Event wasn't enough, it got even better as we got to work with ABC as well. If you haven't heard yet, there's a new show coming to ABC and it's called Child Support. Now, I know what you're thinking, but trust me, it's not even close to what you're thinking.
Before I get into the show, let me just start by saying that it's hosted by Fred Savage…and we got to meet him and chat with him about the show! So today I'm sharing our exclusive interview with Mr. Savage himself.
What is Child Support on ABC?
The series premiere of "Child Support," a one-hour studio-based series from Golden Globe® and Emmy® Award-Winning Ricky Gervais and Banijay Studios North America. It will make its debut TODAY, Friday, January 5th at 8:00 p.m. EST. The primetime series will feature adult contestants and priceless interactions between funnyman Ricky Gervais and a group of five kids who say the most unpredictable things.
Hosted by Fred Savage, contestants are asked to answer 10 questions correctly to earn the top prize. If they answer incorrectly, the contestants have a chance to be saved by the 5 kids who have been asked the same question by Gervais.
Ricky Gervais, David Goldberg, Caroline Baumgard and Jeff Krask are executive producers.
Below are highlights from our interview with Fred Savage!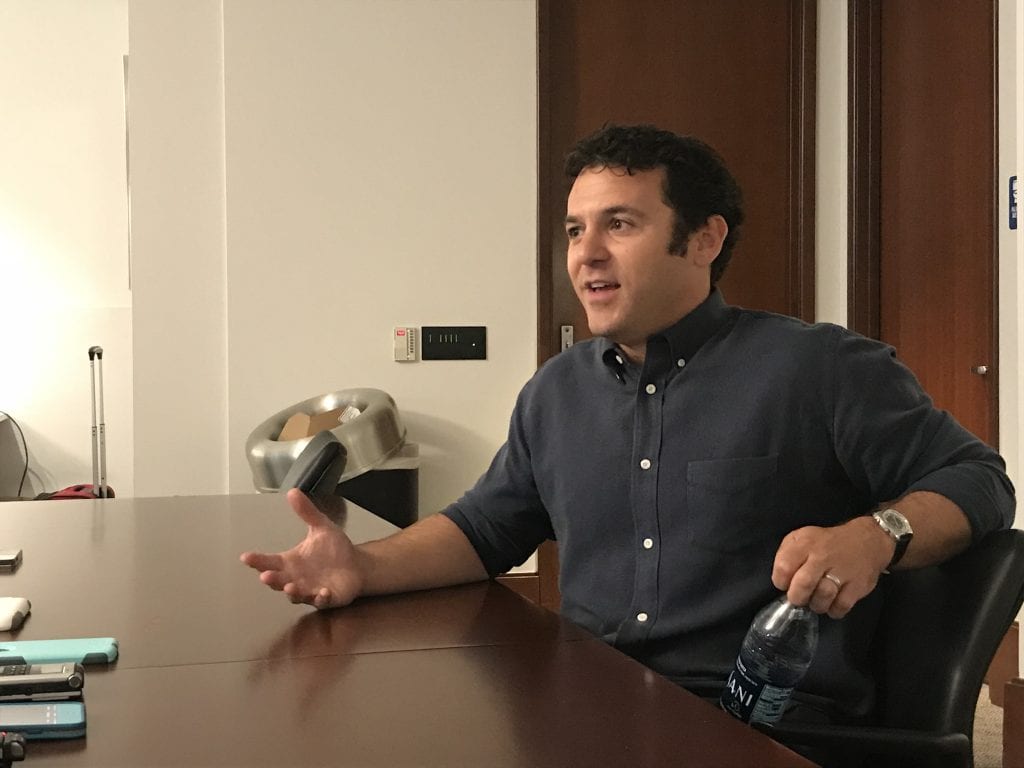 How fatherhood shaped his role as Host for this show
Fred Savage shared with us that his kids are eleven, nine and a five years old. According to him, being a father really reinforced the idea that kids know a lot of stuff! Going into it, his top priority was making sure that it was something that was appropriate and that he could watch with his own family.
Fred explained that he wanted to make sure that there weren't any sneaky innuendos. You know, the ones that we as adults would get, but it might (hopefully) go over our kids' heads?
Yeah, those. I loved that he did not want to be involved with something that would encourage kids to say inappropriate things that they're ignorant of just for the sake of comedy.
A true family show!
Like Fred shared during the interview, it is definitely a family show. We got to watch two episodes while at ABC studios and I can agree that I look forward to tuning in tonight with my kids.
There have been so many times I've had to screen my kids from certain scenes in different shows that claim to be for families, but they're not.
During the interview, he remembered doing a recent show for Netflix and then one a couple of years ago with Rob Lowe that was definitely not something he could watch with them.
A memorable experience on set
We wanted to know what moment so far in taping has stood out for Fred. He recalled a guy who was going way down the road and his fate rested in the kids' hands.  It was exciting because at that point they missed the question and passed the last chance to keep the money. So when someone gets it wrong at that point and it's all on the kids, it's exactly what the show is about.
What I found interesting is that they shot the episodes over maybe two days. So he's hoping that they will be structured in the same way that he got to meet the contestants. Since you never knew how long a contestant would last in a game, they had to shoot them all at the same time and then build on each episode based on the time allotted.
Working with Ricky Gervais…or not?
When asked about how it was like working with Ricky Gervais, Savage mentioned he'd only spoken to him on the phone! They spoke when he first came aboard, and then they talked before and after shooting the episodes. He shared that Gervais gave him some great words of encouragement and support.
One main piece of advice he gave? Don't censor yourself.  Just be who you are.  If you're excited, be excited.  If you're upset, be upset.  Just don't be filtered.
That's great advice for everyday living. Notes taken. Thank you Ricky!
How would he feel about his own kids working in the business?
We switched things up a bit to talk more about his experience in this business, and how he felt about his kids getting into it.
He shared with us that his kids are just natural performers and they enjoy it. So he would absolutely support their interests if they decided they wanted to go out and audition for roles. He's very comfortable in this world because this is what he knows. He knows more about this world than anything else, and he feels that he could be there to support his kids in that way. On the flip side, if his daughter wanted to be on a dance team, while he would be able to support her, he would be more uncomfortable because he wouldn't know what that looked like.
The Wonder Years (you know it was coming)
First of all, let me just share that we introduced my kids to the Wonder Years a couple of years ago. My son was hooked right away!
So I laughed when he shared with us that his mom shows them all of The Wonder Years episodes. They love the show and of course, they also watch and love Boy Meets World which of course stars his brother, Ben Savage. I thought it was funny when he shared that his nine-year-old daughter said that all the relationship stuff was "inappropriate" LOL
Somehow Fred Savage turned the interview on us
What do you think of the name for the show, Child Support? This is what he wanted to find out from us 25 bloggers in the room.
He shared with us that at first, both he and Ricky had some reservations about the name because it's not something that people have a very positive association with.
But I think we all initially had the question of: who wants to be the face of child support?
But after speaking with Gervais, they were assured that there was no better network who's looking out for families than ABC and Disney. And we know they're not going to do anything that's inappropriate or negative or hurtful for kids. Savage joked that this conversation was like therapy for him. LOL
It was so funny that he asked the question that everyone was thinking. But as soon as the show started and we were watching, it was clear that it was the perfect name. It might give a shock factor when you hear it, but when you watch it, all of that melts away. It is just a fun show to watch.
Did Child Support Bring out the Inner Game Show Host in Savage?
This was his first time hosting this type of show. And he shared that he really enjoyed it. Now that he's done it, he's more open to it. But he stated that he's eager to see how this show is received because America will tell him if he has a future in this or not. LOL His biggest takeaway was that he was so surprised at how much fun he had. He would definitely jump into it if the opportunity presents itself again.
The reality part of this game show
I was really happy to hear that he doesn't get or read the questions ahead of time. When he's reading them on the show, he's doing it for the first time (unless he had to do a double take cause he read it incorrectly, etc).
This is one reason why he tries to encourage the contestants and have them talk through the process. It is completely genuine.
I've been a fan of Fred Savage since The Wonder Years days, so this interview and photo was a true highlight for me!
Check out Child Support premiering on ABC tonight at 8pm EST
Get connect and follow Child Support ABC on Facebook  –  Twitter  –  Instagram and use the hashtag: #ChildSupportABC to stay up to date!
Will you be watching this series with your family?
---
Disclosure: This trip to LA and ABC Studios for #TheLastJediEvent was sponsored by Walt Disney World. As always, the thoughts and opinions are my own.