Disclosure: As a Blogger Ambassador for Hilton Hotels®, I received a complimentary hotel stay at Homewood Suites Hotels. As always, all opinions are my own.
---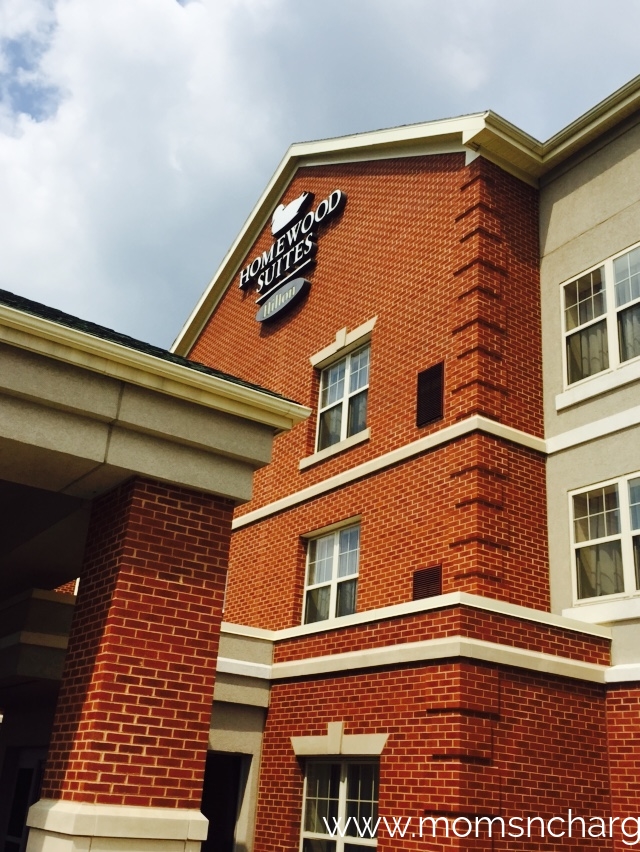 Last week, we had the opportunity to take a short family weekend getaway! Since we'd never stayed at Homewood Suites, we decided we wanted to go somewhere close to home but that would give us a new experience in the process. We decided to head up to Hershey, Pennsylvania because we'd never visited there before. It was a short two hour drive, but felt like we really got to get away from the everyday life.
When taking a short vacation, it's great to find places that are close enough for a short drive. It's also nice because before the kids can ask "are we there yet?", we usually are 🙂
And here are a few reasons to choose Homewood Suites for your next family getaway or reunion:
1. Spacious
My girls were literally doing cartwheels all over the suite, and I'm sure there were bigger suites than the one we stayed in. Ours was perfect for our family of five. The bedroom had two double beds. And while all three kids fit in the bed the first night, we moved them to the sofa bed for the second night because the girls kept waking me up fighting with each other in the middle of the night (I was literally breaking up fights at 2 and 4am). I'm just glad we had the option to kick them out – with all of our love of course. LOL
2. Family friendly
We absolutely loved the fact that they keep a social calendar and host a complimentary evening social event in the lobby on Monday-Thursday nights! I don't know about you, but I had never seen this done before at a hotel. This added such a nice touch, and technically, could've counted as dinner.
Another huge plus and brownie points for most awesome parents, was the nice indoor swimming pool. We literally checked in Wednesday late afternoon, grabbed a snack and then changed into our swimsuits and headed to the pool. I was so happy that it was indoor and that it was somewhat heated, even though it was hot outside. I also appreciated that it only went up to 5 feet for my kids who are still learning how to swim and tread water. The 3 foot deep water was a great starting point.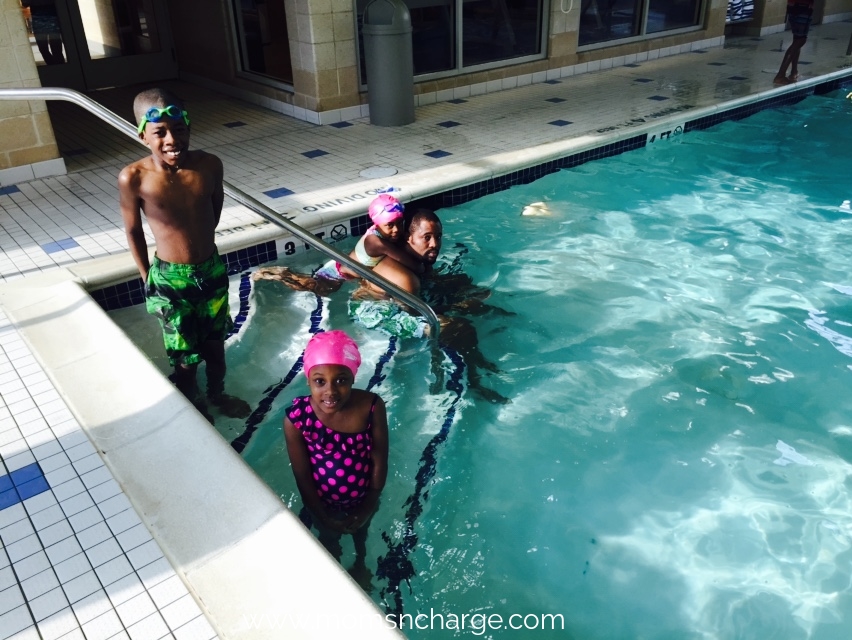 3. Free Breakfast
Need I say more??? And I'm not talking about a simple continental, cereal and fresh fruit kinda breakfast. No, they offer all of that in addition to, waffles, french toast, eggs, bacon, toast, bagels, yogurt, fresh juice. Breakfast was served from 6-9:30am which was perfect for us. And it was yummified! We ate at 9am both days and then started our day. It was such a relief to be able to just head downstairs for breakfast each morning instead of trying to find something the kids could eat or having to order room service. This was a huge plus in our book! Honestly, I don't think I ever forget to take a picture of my food…but unfortunately, I did both times we had breakfast. So I was either too busy getting the kids situated or it was just that good. Did I mention they had waffles and french toast?
4. Free Wifi
In this day and age, every hotel should be offering free WiFi but unfortunately a lot still do not. Being able to connect with family and friends while traveling is huge. But in this case, we could also use the WiFi to stream movies from our iPad for the kids. And yes, while this was a family vacation, I did have to do a little work after the kids were in bed. So it was great to be able to have reliable internet service in order to do just that.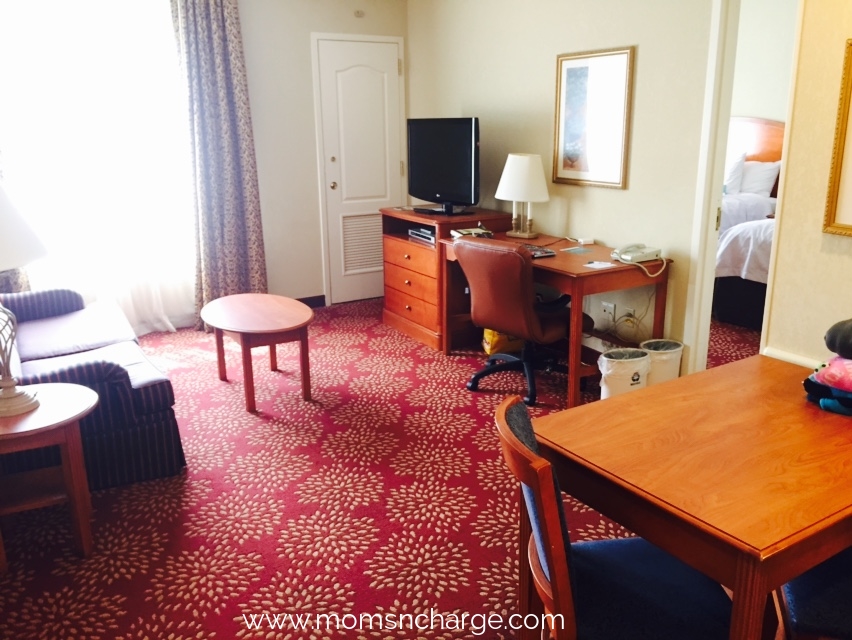 5. Full Kitchen
Even though we didn't take advantage of it during this trip, we most definitely will take advantage in the future. It's so great to be able to go to a hotel and not feel like you're in a hotel, especially when you have to be there for an extended time. So being able to have a full kitchen with stove and fridge, as well as a dishwasher, was a great thing to have! It's also great because sometimes when you go out to eat, you end up not taking your leftovers with you because you don't have any fridge to put it in, or any way to heat it up when you're ready to eat it. Homewood Suites solves that problem for you.
If your family is planning a family reunion, you should definitely look into what Hilton's Embassy & Homewood Suites have to offer. They make things so easy and stress-free especially just traveling.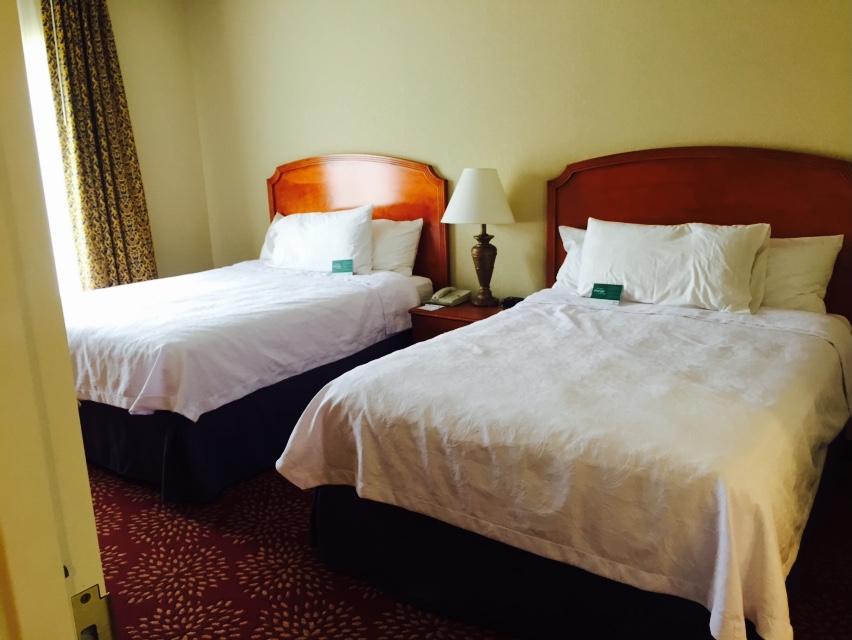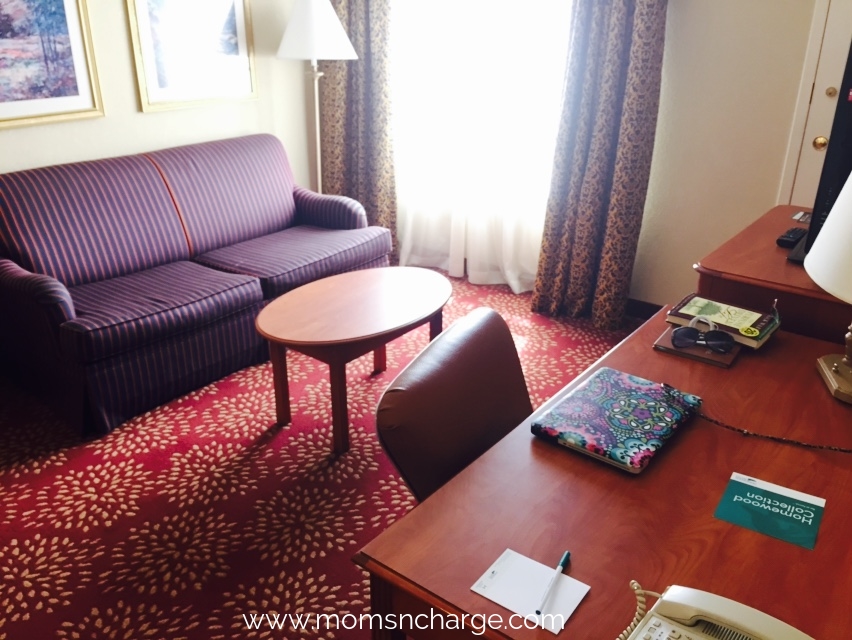 Here's a sneak peak inside this beautiful hotel, which I shared live on Periscope:
What's your favorite part about traveling with the family?