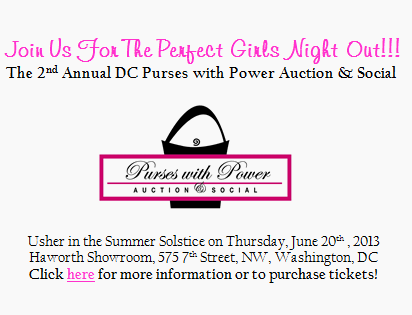 I am so honoroed to serve as a volunteer on the planning committee for this year's Purses with Power Event (PWP). I was even more honored to be asked to manage the Social Media efforts for the event. Purses with Power is a Ladies' Night themed event where women come together to network, socialize and shop for a great cause, while helping to raise awareness and money for arthritis research and education through the Arthritis Foundation. The evening will be comprised of wine, music, light refreshments, red velvet cupcakes, swag bags…did I mention wine?! Our event hostess for the evening will be Dr. JC Hayward of WUSA 9 and shhh…rumor has it that First Lady Michelle Obama has our event on her calendar…but you didn't hear that from me.
When I was asked to join this awesome planning committee, I accepted immediately without any hesition. But it wasn't because I had a direct connection to the cause, it was because I believed in the mission and wanted to do my part to help raise awareness for the 50 million people who are currently living with arthritis (300,000 of them being children).
Well I'm a big believer in that things don't "just happen". Rather, I know God allowed me to get connected with this committee so that I can not only assist with this event, but to also educate myself on arthritis and the many different forms. Since joining the committee, I now have a very personal committment to this mission because I recently found out that a very good friend of mine was diagnosed with Lupus. This hit home hard as this was also the same friend who had just recovered from suffering multiple strokes just months before. So while she's not able to physically attend the event in DC (although she lives in Charlotte and will plan to attend that one), I wanted to share her story with you, and she was gracious enough to allow me to do so.
Tanya and I met and were friends back in high school. We lost touch for several years and only just recently reconnected within the last year via Facebook. It was her scare with her strokes that strengthened our friendship, and I truly admire her ability to continue to put on that beautiful smile of hers with everything that she has had to battle in less than a year. She has been going through this test, and at the end of it all, she will be able to share her powerful testimony with others.
When were you diagnosed with Lupus? How did you know that something was wrong and what was the first action you took?  
Tanya: I was diagnosed in Feb 2013, and I knew something was wrong after I suffered multiple strokes in August 2012.  The first thing I did was research my family's medical history, along with contributing factors as to why someone my age would suffer from strokes so young (at the age of 32).  I also took a proactive approach with my doctors when they would run tests on me.  I made sure I understood what the tests were for as well as why they were running the tests in the first place. My mom often jokes that with all the medical lingo and processes I've learned I should have a medical degree [laughs].
How has your life been impacted since your diagnosis?
Tanya: I have a lot more doctors appointments and have to take medication daily! I also have to be mindful of how I treat my body from what I eat, to making sure not over exert myself, as well as making sure I get an adequate amount of rest.
What are some of your biggest challenges you face on a daily basis?
Tanya: My biggest challenge has been dealing with the chronic fatigue and stiffness of my bones. I also battled depression which is apparently very common amongst lupus patients. I'm assuming depression occurs because the reality sets in that your lifestyle changes instantaneously, and that those around you may not understand your struggles because you look and appear healthy.
What are some common misunderstandings of lupus (even some you had before diagnosis)?
Tanya: I thought lupus was a rare disease. Honestly, when my doctor told me lupus was an auto immune disease, I immediately panicked because I categorized it as it being somewhat similar to Aids and just felt doomed to a life of pills coupled with frequent pains! Ignorant, very, but that's what I thought until I actually read the literature my doctor provided me with.
What is your advice to others who have recently been diagnosed?
Tanya: Try to stay as positive as you can!  Find your local lupus foundation office or join a support group. It's very important to not isolate yourself when going through this! It's equally important to know that lupus is manageable, and that thousands if others have lived healthy and normal lives with it. Your mental and emotional health directly effects your physical health. With lupus, stress is a direct trigger that can worsen the disease. Oh and most importantly, learn to listen to your body and be kind to yourself!
Thank you so much Tanya for sharing your story with us! I'm dedicating my involvement with Purses with Power to you, and plan to continue to help raise awareness around arthritis.
Are you interested in joining the fight against arthritis? If you are in the DC area, you can do so by purchasing a ticket to join us on June 20th for Purses with Power, or you can make a donation online. Either way, I hope you'll join me in the fight to help all those battling this dibilitating disease.
For a sneak peek at some of the auction items as well as up to date information on the event, be sure to follow @PowerPursesDC on Twitter and Instagram.