In case you didn't already know, President Obama will deliver his State of the Union address this evening. And guess who was invited to participate in the White House State of the Union Social? Meeeeee! To say I'm excited, is an understatement! A few times a year, the White House opens its' doors to host special "White House Social" events for people who engage with them on Social Media. I heard that last year there were over 2000 applicants for the 60 spots!
The White House State of the Union Social is an opportunity to join other digital savvy influencers as we take to social media to share highlights from the President's Address. During the event we will watch President Obama's State of the Union Address live from the White House. We will then get to participate in a speaker series featuring Senior-level White House officials to discuss the vision and policies laid out in the speech.
I've been to a couple of different press events at the White House (Affordable Care Act and the First Lady Honors Youth in Humanities & Arts Awards). But I'm really excited about this event. The information shared here will directly impact my family and our futures. I'm excited to learn more about FREE community college for my children, and affordable high-speed broadband access for all Americans. I get to hear first-hand about how we're really doing as a nation, and what work lies ahead.
When I told my son I was going to the White House for work he was super excited and decided I was the coolest mommy ever.
And with all this excitement, I get to share it with two of my digital sisters, Ananda Leake of The Digital Sisterhood (for whom I found out about this event, and was named one of her Digital Sisters of the year), Michelle Talbert of Her Power Hustle and Aliah Davis-McHenry of Aliah PR. I'll also get to meet a few new "Digital Sisters" at this event!
So be sure to follow all of our latest updates on social media using the hashtags #SOTU15 and #SOTUSocial. I'll be on Instagram and Twitter @MomsNCharge! And be sure to go to www.whitehouse.gov/SOTU for live coverage.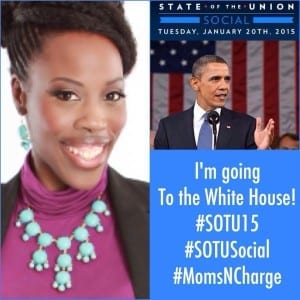 Take a behind-the-scenes look at the STOU Address:
Will you be watching the President's State of the Union Address tonight? What are you looking forward to hearing about the most?