Have you ever been on a fitness journey, working hard and getting great results when all of a sudden…you see NO change? What happens when the number doesn't change on the scale? I don't about you, but I get frustrated and sometimes feel defeated. So I love these FLY & Fit mom posts that Neneh will be sharing as she goes through her own fitness journey. In this post, she shares exactly what happened when she encountered this exact scenario.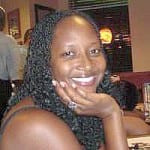 The following post was written by Neneh Diallo. Neneh Diallo is an author, speaker and entrepreneur. Neneh put her skills as an avid listener and communicator and her passion to help women navigate through their life changes and achieve their goals and founded LaTigra Strategies, an executive and life coaching organization. Neneh is passionate about helping women get unstuck by awakening their ROAR, "through Reflection we find Opportunities and set an Action plan for attainable Results."You can connect with Neneh through her website, and on Twitter. You can also e-mail her: neneh@latigrastrategies.com. Neneh Diallo is an author and blogger for Stilettomoms.com
I've been working out steadily for nearly 10 weeks now, so imagine my surprise when I got on the scale at my mid-way weigh in and saw the number hadn't dropped! That's a sure-fire way of getting a girl to run to the nearest Baskin Robins and eat a hot fudge sundae! What was I doing wrong? I had been breaking a sweat at every workout at least 3-4 times a week. I had been eating smaller portions. When I visited my brother, Thierno of Kaarta Sports, also a personal trainer, he explained that it wasn't so much the portions I was eating but WHAT I was eating. So I sat down with him to ask a few questions so he could explain this all to me.
Neneh: What's your philosophy around nutrition?
Theirno: When it comes to nutrition, I like to think like a caveman!  If it's natural, or what I like to call "GOD's food", it's good for the body.  If it's man made, I try my best to limit my consumption.  Society has become very consumed with counting calories instead of asking ourselves what the calories have to offer.  Our bodies don't crave calories, they crave for vitamins and minerals to keep the body well balanced and functioning optimally.  I believe in consuming fruits, vegetables, and nuts.  I try my best to limit the amount of red meat and other animal products.  My protein of choice is fish due to the beneficial omega oils.  The key is consuming foods that do not slow down your digestive tract!
Neneh: You are a huge advocate on natural herbs, what are some of the ones you use and why?
Theirno: I love to add "Superfoods" such as maca, wheat grass, barley grass, moringa, chai seeds, and hemp seeds to my meals.  My favorites are moringa, barley grass, and wheat grass due to the fact that they alkalize my blood.  It's important to regulate blood glucose levels and metabolism.  These supplements help metabolize the carbohydrates (sugars) that we consume.
Neneh: You start your day with a smoothie, what are your ingredients?
Theirno: The key to a good smoothie is the banana!  I tend to mix mango, pineapple, strawberries, blueberries, raspberries, and a banana.  I add a tea spoon of wheat grass/barley grass, maca powder, beet root powder, and chai seed powder then blend it!  I am an antioxidant addict…  so long as it's sweet and taste good, I'll consume it!
I followed his regimen for two weeks. This morning I got on the scale and had lost four pounds!
You can connect with Thierno via his website and on Twitter.
Comment below: What has been your most frustrating challenge during your own fitness journey?
***DISCLAIMER: The Food & Drug Administration has not evaluated any statements listed in this post or on momsncharge.com. Information provided is not intended to diagnose, treat, prevent or cure any disease. Weight loss testimonial is for information and motivational purposes only. Patients should consult their health care practitioners for advice before beginning any new health care program, diet or recipe suggested on this site.***