I really hate that summer is over because I'm not a fan of the cold weather. But the only thing that brings me comfort during the weather changes from summer to fall is pumpkin…pumpkin everything – from muffins to lattes to pies, I love it all. So this pumpkin pie smoothie recipe is music to my ears. Be sure to stay tuned for more pumpkin recipes coming soon!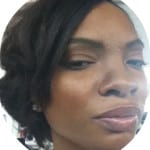 The following post was written by 
MJ Levine. MJ is the voice behind FAB Haute Mama, a lifestyle blog for moms focused on getting Fit & Beautiful (FAB) Haute Mama, staying in style and knowing your way around the kitchen – all while running a household. Haute wife to Mr. Levine, mama to Zoe, step-mama to Zaya, human mom to Scout the boxer and Rio the parakeet, MJ is on the journey to finding balance in motherhood.
You can connect with MJ on Twitter and Facebook.
Let's welcome in fall with a light and easy pumpkin pie smoothie recipe. We all know fall involves pumpkins, apples and beautiful leaves. Not to mention pumpkin pie, breads and muffins. Since summer is technically still here, a cold pumpkin treat is a perfect segue from summer to fall.
Ingredients
1 cup 2% milk
½ cup canned pumpkin puree
1/2 banana, chilled or frozen
1 tbsp raw sugar or maple syrup
1/2 tsp vanilla extract
1/4 tsp pumpkin pie spice
½ cup ice
Instructions
Combine all ingredients in a blender.
Blend until smooth.
Poor into two 8-oz mason jars.
Top with a dash of cinnamon and whipped cream (optional).
Notes:
Pumpkin pie spice substitution:
1/4 tsp cinnamon
1/8 tsp nutmeg
1/8 tsp allspice
Pinch of powdered ginger
What is your favorite pumpkin flavored food?