When you're anticipating the arrival of a sweet little bundle of joy, it's easy for spending to get out of control. Moms-to-be, family, and friends often channel their excitement into purchasing all sorts of things for the brand-new baby. A simple way to keep all of this spending under control is by planning ahead to focus on the essentials.  Here are 4 simple steps to help you do exactly that!
1. Figure Out What Is Truly Necessary For Your Baby
Expecting moms usually receive long checklists when they sign up for a baby registry. These lists include so many things that will rarely be used. Instead of these checklists, new moms should research the true necessities by talking with friends and even chatting on baby forums online.
Remember, you can always go back and buy more. Why buy half a dozen Swaddlers, before you know if your baby will even end up liking to be swaddled? Instead, just buy one to try out at first.
Keep your registry small at first by focusing on the essentials, such comfortable diapers, and onesies. People will decide to buy the extra, cute stuff on their own. Don't feel guilty returning unnecessary things to buy the big items you actually need for your baby.
Even experienced moms can fall victim to the draw of buying way too much for a new baby. If this describes your situation, try to think back to what baby items and clothing were used and helpful. Don't forget to look through what you have already, so you're not unnecessarily buying any duplicates.
Ultimately, babies don't need very much in the beginning.  You don't need fifty different onesies or fancy contraptions like wipes warmers. You're likely to receive quite a bit of clothing as gifts from friends and family, and they usually choose to go with the smaller sizes. Babies will grow out of this clothing very quickly. Your best bet is to purchase a few basics and just supplement these items as needed.
2. Go With Gender-Neutral Items
When choosing between different baby items, try to go with gender-neutral selections. Yes, the pink, frilly stroller is adorable, but it's just not a practical purchase. First of all, if you end up having more children, you will save a ton of money by being able to reuse everything. Secondly, you will have a much easier time selling these things when they are no longer needed. This extra cash can be used to pay for other types of expenses as your child gets older. Besides, your baby won't really care about the color of their swing, as long as it does the job.
Also Related: Oh Baby! – Expecting the Unexpected in Childbirth
3. Protect What You Have So You Can Sell Them Later
You've been eyeing that adorable little dress for days. You know you probably shouldn't buy it, but the photoshoot potential is simply too much. That's ok, you're only human, and there's nothing wrong with spoiling yourself and your baby. Besides, once she outgrows it you could always sell it and get some of your money back.
The only problem is, how do you make sure it doesn't get ruined before then? If you are going to be investing in expensive baby clothing, you'll probably want to pick up some high-quality baby bibs to prevent dreaded spit-up stains. It's also a very good idea to keep two different sets of clothing for your child. One for dress-ups and the other for playtime. That way by the time they outgrow them, at least half of the clothes will remain in good condition.
4. Search For Quality, Gently-Used Baby Items
While there is some natural appeal to buying brand-new items for a brand-new baby, moms can save a ton of money by purchasing at least some items used. It helps that there are so many options when it comes to searching for quality, gently-used baby items.
The first thing any new mom should do is ask friends and family if they have anything that is no longer needed. My mom still had the beautiful wooden highchair from when I was a baby. It's been pretty neat to watch my kids eat in my old highchair. You're bound to find some family or friends who don't want to bother with the hassle of selling unneeded items. They would rather just give them to you for free.
The next best option is using local Facebook yard sale groups or Craigslist. You can use these resources to score large "lots" of clothing or a group of baby items for a great price. One word of caution is to watch out when it comes to car seats. They shouldn't be used again if they have ever been in an accident, have very specific cleaning instructions, and even come with expiration dates. Car seats may be one of the few items that you will want to purchase new.
Consignment stores and sales are another great options. Just beware of falling prey to that same trap of buying too much stuff, especially when everything seems like such a great deal. The smart thing to do is make a list of items that you actually need before you start your shopping.
Summing It Up
Store sales only go so far in helping save money if you're buying far more than you need for your baby. The smarter approach is to take some time to research what will actually get used when the little one arrives. Use your network of family and friends to locate free, used items and think ahead about gifts you're likely to receive. Babies really don't have to be expensive.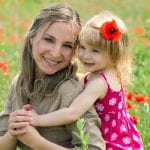 This post was written by Jenny Silverstone
. Jenny is a mother of two, a blogger, and a lover of summer. When she's not enjoying her time outdoors with her family, you can find her giving parenting tips, tricks & hacks on the blog Mom Loves Best.  
Social: Pinterest Facebook Twitter