Okay so we are back with Ms. Waterman, as she shares with us her personal story and fight against breast cancer. Be sure to check out Part 1 of our interview, as you don't want to miss anything that this phenomenal woman has to say! I am humbled and grateful that she opened up to share her story with me, so that I can in turn, share it with you all.
So I'm just going to pick right back up where we left off.

C: Do you feel like your service in the military helped prepare you for your personal fight with breast cancer?
LENORE: Definitely. Definitely. My last deployment to Iraq, Christmas day we went worked with some Iraqi kids. We brought candy and we were doing all kinds of little things, Christmas type projects – the kinds of things that you would do with your own children. We were building gingerbread houses with them and all of that. That night when we got home, the al caeda started mortaring our base. A mortar hit 200 meters from where I was staying. That was the closest, in all my seven trips, that I had ever come to really realizing that I was a military person in a war. Before, I think I took it for granted that it was a job, it was just something that I loved to do. And I still loved to do it after that day, but that fight showed me, 'Ok, Lenore, if God is going to make a mortar hit 200 meters from the place where you live, and not hit the place where you live, then you can definitely fight this.'
C: That is a serious testimony so thank God for keeping you safe and continuing to do so.
How long has your recovery process been, or is it an ongoing thing?

 LENORE: It's still an ongoing thing. I had my bilateral mastectomy in April and even about four weeks ago, I had to have another surgery. It was minor but they still had to adjust some things. There are days when I have a lot of pain but I push through the pain. And then there are days where I feel like I'm on top of the world. Even in the days where I have the pain, I try not to let it get to me. But the process of healing is still ongoing because you have to remember that they kinda ripped my chest off [laughter]. So it's not like getting a cut and it healing over night. But I'm grateful that I woke up.
C: What kind of effect did this have on your entire family?
LENORE: Well with my daughters, I think they're more mindful of their own bodies. That's one thing. My youngest daughter, she's maybe 20 lbs over weight but she's 15 and she's still growing. But it made her take light, so she decided on her own that she's going to commit to a lifestyle change, and lose weight. My older two have always taken champion to cause. So they've learned to kind of lean on each other because they know mom doesn't always feel well.
 As far as my sisters, you know, they get angry with me because I don't tell them enough. Sometimes with the disease I try to shield my family as much as possible. Being in the military I knew I always had to go, and I didn't want them to think, 'Oh she has to go and she's not feeling well'. My mom for some reason (call it a mother's intuition), somehow always knew when something was wrong. When she came down here to be with me for my surgery it just solidified our relationship even more. It just made the relationship closer. If we could be any closer, we'd be each other [laughter].
 But it's just been amazing, the support that they've given me even through just their words and their time. We've joked and they've laughed with me. They've helped me laugh about it, and wiped my tears when I've cried about it. My mom has kept me laughing with her threats for the doctors [laughter]. It's just been a really great support system.
C: That is so awesome that you have such great support and such a wonderful family.
What are some ways that people can support breast cancer patients and survivors alike?
LENORE: One of the things that people can do, is first of all, just listen. A lot of people in my office didn't know that I had cancer. So listen to the people around you.  I mean the walks are wonderful. Raising money for the research is wonderful. But the bottom line for that is (and this is the way I see it): the woman who has breast cancer who doesn't have a lot of family (or doesn't have any family), and may not have a lot of money, is probably the one that needs your personal gift (than for you to give money to research). What I mean by that is, you can just sit with her when she's recovering from what she's going through. If you're a member of a local church, maybe you can get a group together and take meals to a family that has someone who is going through recovery. The surgery is really serious to the point where the person who is having the surgery is pretty much incapacitated for a while.
 So buying the pink bracelets and wearing the pink throughout the year is wonderful because everybody has their agenda on how they're going to spend the money that is raised and also gives more awareness to the disease. But that woman who is sitting at home by herself has just lost what may seem to be her womanhood (when you lose your breasts). It's a very hard transition. So if she could just have someone to sit there, sometimes even just the ministry of your presence is worth way more than the ministry of your money.
C: Again, that is really awesome advice. I know personally, I've been wanting to do more than just give a donation or participate in the walks so thank you.
What does the world not know about Lenore that you would like to share?
LENORE: Well when people see me at work and when people see me out, they see this really driven, focused person. Which, I am all of that but I'm very sentimental too. My family knows that but a lot of people don't see that side of me. I'm a giver…a giver, giver, giver. I would give my last to see someone be happy. I'm a champion of joy and happiness. I'm not like a fairy or anything [laughter] but I'm a champion of seeing a person achieving their personal joy and their personal happiness. Whatever I can do to help you create that in life, to me, that's the greatest gift I could ever have. I don't want a big house, I don't have to have the greatest luxury car, but to see you reach your personal happiness is one of the greatest things for me.
 I want to get into doing more public speaking under the "Walk In It" umbrella. When I say it, it's more of an empowerment mantra. It's beyond the 'oh you can do that'. If you can see yourself doing something, then 'walk in it'. For example, when I'm at work, I'm not the boss. But I see myself as the boss. Not that I'm better than anybody but I have the knowledge and I've worked really hard. So I walk in the boss role, and because I do, people pass by the other people in my office and say 'Ok, let's go to her because she knows it all' [laughter]. And I may not necessarily know it all, but gosh darn it, I feel like I should! And I'll get it as I'm going. But I really feel like it's a mantra that goes beyond 'just do it' or 'you can do it'. It goes beyond the cheerleaders and the pompoms.
I'd love to go around and speak to women who are homeless, women who are in abused homes, abused relationships, and women who are in battered homes. I want to go to the places that the mega speakers can't meet. I want to go to places that other people won't go. I want that one person to tell her experience and say, 'You know I heard this lady, and she just encouraged me to "Walk In It". And here I am today: the CEO of a Fortune 500 company'. That would be my absolute greatest accomplishment!
 One other thing people may not know about me is that I'm really into the church. When I was stationed in Japan, I used to teach bible study to Japanese speaking people that only spoke Japanese, and I only spoke English. But they got the message. I truly believe that if your heart is right and if you have a passion for what you're doing, you can speak to people who don't even speak your language. They'll get it because it's a love thing from your heart.
Wow. Well you've definitely left me speechless and inspired, wanting to do more and be more. Thank you Lenore, and may God continue to bless you so you can continue to be a blessing to others. I have no doubt that you will accomplish all that you have set out to do.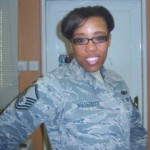 If you would like to connect with Lenore, please feel free to subscribe to her Facebook posts by clicking here. You can also e-mail her directly at LeMichele @ ymail.com.
If you know a Mom 'N Charge that should be featured in Real Moms, Real Talk (or, if that person just happens to be you), please contact us with the subject title "Guest Feature: Real Moms, Real Talk". RMRT will be moving to a Blog Talk Radio station near you, so stay tuned!