The holidays are generally a joyous time of the year. But sometimes they can also bring out some undue stress or battles (whether with your spouse, significant other or family members). Last week's Twitter chat was a blast. There were definitely varying views around whether or not one should "take away Christmas" as a source of punishment for children for misbehavior. One topic that came up was Santa: some say it's a joke and they don't allow their kids to believe, some say it's magical and they want their kids to have that belief. Where do we draw the line?
Is your house divided? Are you living in a battlefield when it comes to certain beliefs like Santa, the Tooth Fairy or the Easter Bunny? What are the issues that you battle with over the holidays? Santa no Santa? Real tree or fake tree? Who's traveling where? Gifts or no gifts? Too many gifts or not enough gifts? Going into debt just to get gifts? It's time to mashup with Heather and Sheree!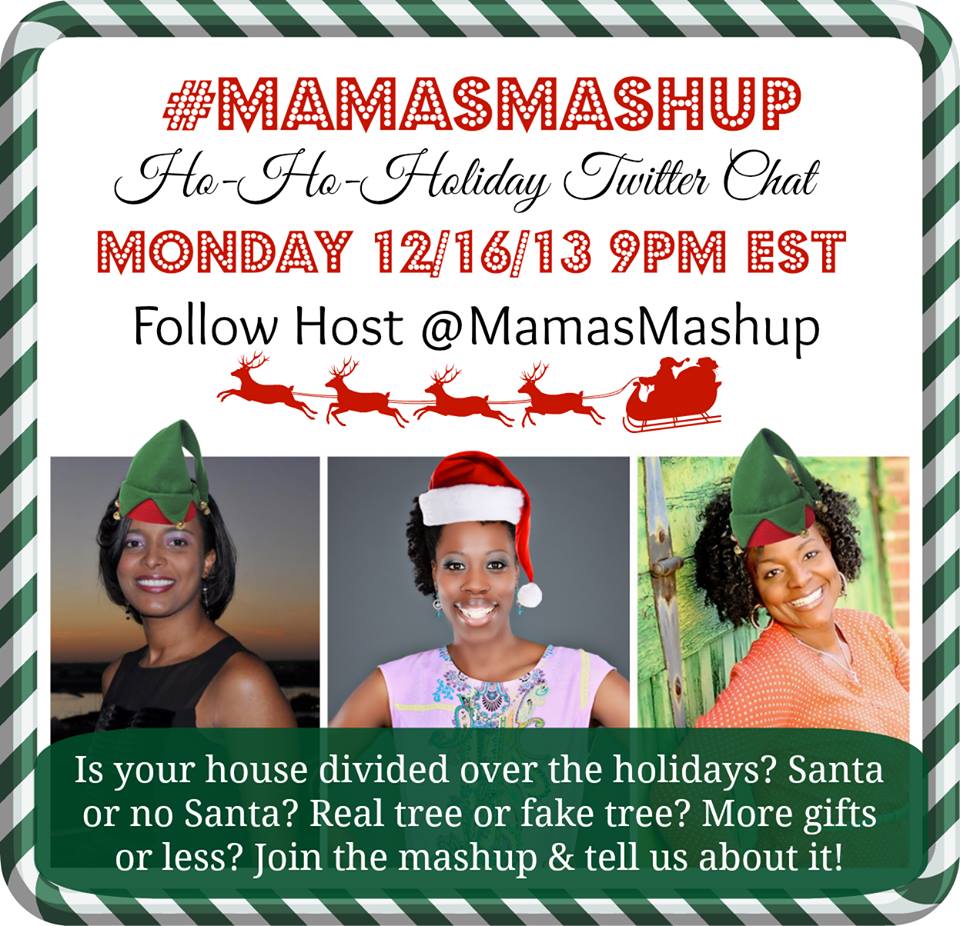 Real tree or Fake?
Sheree: Hahahaha! Fake trees this year. As a matter of fact, TWO of them! It seems like every other year, we do real, then fake. We did the whole "visiting the tree farm" a few years and all had a hand in choosing and cutting down the tree. It was fun, but I don't think we HAVE to do it again. Great memories, though!
Heather: I grew up with a real tree, but have an artificial one. Miss the smell of pine, but not the needles!
Christine: LOL good one Heather. I shared this video with Kevin Hart last year about this topic. He was a little passionate about his "old reliable". I honestly don't have a die hard preference over one or the other. I can, however, tell you that my husband has not enjoyed cleaning up the heap of pine needles that come with real trees. So we've had a fake one the last couple of years, definitely easier to maintain.
Travel or stay home:
Sheree: We've never lived around family since we've been married, so it's always about traveling back home or taking up our sweet friends on their offers to have us over for holidays. We've been blessed to have spent the holidays with LOTS of great people over the years.
Heather: Since she'll be away, we already put up the tree (artificial, but next year we are heading into the woods to chop one down–with male muscle power though…lol), watched holiday cartoons and we'll open our gifts together on New Year's Day.
Christine: This is easy. All of our family is local (within a 45-50 mile radius). So we never travel far. However, I did just tell hubby that I think we might want to go spend Christmas away from home one year, and take advantage of our timeshare.
Santa or no Santa:
Sheree: We do Santa! Even when my kids stop believing, I love how they "play" us and keep the fun going. It's such a rite of passage when they stop believing.
My husband and I enjoy playing Santa just as much as the kids like believing. We do, however, begin teaching of Jesus' birthday at a young age, but start to stress it more and more as each year goes by.
Heather: Growing up, I believed in Santa Claus, the Tooth Fairy and the Easter Bunny.  When I found out the characters were fictional, I didn't think my parents lied to me. I knew Santa symbolized love and generosity. Kids believe Barney, Dora and Calliou are all real, why not Santa Claus? It sparks their imagination and spurs creativity. At the same time, I still teach my child the reason for the season. But we don't celebrate Christ only on Christmas.
Christine: Honestly, my husband is against Santa and doesn't want the kids to have anything to do with it. But I love the magic of it and the joy it brings to their face. It's only a problem if that's ALL they believe in. Speaking of, this Santa hotline number is the cutest thing and my kids are getting a kick out of it! LOL
Holiday Hipocrosy: Tooth Fairy, Easter Bunny
Sheree: We do the tooth fairy. If you're losing teeth, you deserve some money. Easter bunny?! Not so much.
Heather: To deny your child fun, because you want to get a pat on the back and teach them about spending or sacrifices? My child doesn't understand that my money bought her a Leap Pad of a Kidcraft Kitchen. That doesn't mean she'll be ungrateful. She'll just learn the lesson about hard work another day!
Christine: Honestly, I see them all as one in the same. So I'm confused when people say they teach their kids about Santa but not the Easter bunny, or the Tooth Fairy, but not Santa. I don't get it.
Why not the Easter Bunny Sheree? We're not really hard core on either but we do allow them to believe in all three (well, I do, hubby is not a fan of any LOL). When the time is right, I will explain it to them.
Less or More:
Sheree: A couple of years ago, when our third child was born, we decided to cut down on the excessive gift buying at Christmas. When I say WE, I mean my husband decided and I reluctantly agreed. My take is this, you only have a short time with your kids before they're grown and on their own. So, I'm all about waking up in a sea of gifts and spending lots on them. In contrast, we do community service year round. So, they truly know what it's like to give during this time as well.
Heather: This year, I'm saying Yes to Less! That's less stress, less spending and less going into debt.
Since my daughter will be at her dad's, I'm not going to break the bank getting gifts under the tree. I took into consideration what I thought she would really want–a cash register, an art table and an e-reader. I'll definitely add onto that list, but I am claiming 2014 as a debt free year! She's only two, so she doesn't write a wish list. She'll jump up and down for one or one hundred gifts!
Christine: I actually think less is always more. I am not a fan of going into debt to buy things that the kids will only play with for 5 minutes (*insert stank face here*).
I didn't used to feel like that, but having kids of my own make me really appreciate what my parents didn't give us when we were younger. We were always taught the importance for being thankful for what we have, and giving to those who don't. So that is what I'm trying to teach the kids. We just gave away a construction size trash bag full of toys they no longer played with, to Goodwill. They were happy to know that other kids would get to play with them.
So there you have it! What are your thoughts? What battles are you fighting in your household around the holidays?