I am super excited to introduce a new contributor to the Moms 'N Charge team! You can read below about why she's amazing. But Brittany and I connected through my Facebook fan page. When I talk about the power of social media and how powerful it can be, I speak from experience.  So I was super excited when Brittany expressed interest in writing for the site. I don't know how you handle temper tantrums, but she shares some great tips on how to minimize them (and keep your sanity in the process). Check it out and then let us know how you handle temper tantrums (as frustrating as they can sometimes be).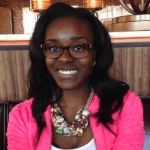 The following post was written by Brittany Redfern
. Brittany Redfern is a first year law student at Villanova University School of Law. Brittany became a mother to her 3 year old son while in pursuit of her Bachelor's degree in Sociology from Temple University. Brittany credits motherhood at a young age for piloting her capstone project on breastfeeding disparities in low income minority communities that won her recognition and awards. Brittany aims to expose young mothers to the endless possibilities for them and their children just by having a little faith and being more afraid of abandoning the dream than of the dream itself.
Deuce has reached the inevitable age of having his own will. He has desires, he has wants, and further, he has temper tantrums when either of the first two are not met. Deuce has recently turned three and though many referred to his past year as "terrible twos." I can't say I agree that they were terrible, but I can admit that there are often times when his desire to have his own way can become problematic.
A friend of mine refers to her son's temper tantrums as a "conflict" between her and her child. I don't consider Deuce and I have to have conflicts because I realize his tantrums are based on wants and my requests of him are needs he simply isn't cognizant of. For example: I say bedtime and he says "no." He isn't cognizant that he has to go to daycare the next day so he wants to play all night. He doesn't realize there is another day coming that he must be prepared and well rested for. I do. So we don't have conflicts because most of his desire to do something other than what I am saying is because he sees every moment as IN THE MOMENT instead of the preparation for something else to come.
I have had to learn to work through these moments with a calm spirit and VOICE. I have recognized that meeting his aggression with my own frustration and aggression can do nothing, but heighten the situation, so when he is yelling, neither his father nor I are allowed to yell back. I have had to take many breaths and even bit my tongue during his tantrums until I found the right words to say without malice. During his tantrums, I say phrases such as "OK John, Jr. This isn't how you get what you want. Please use your words." I tend to use his real name during tantrums to assert my authority, but I do not allow a change in my pitch or tone. I also offer him the opportunity to nurse because this act often relaxes him and brings him to a point where he can communicate or even do what I need him to do.
I DO NOT BELIEVE IN COMPLETELY IGNORING CHILDREN DURING TEMPER TANTRUMS.
Ignore the negative behavior of course by not responding in the same manner, but ignoring a child could cause more damage both physically and emotionally. Many children will thrust themselves and fling their bodies onto the floor even more violently while being ignored, hurting themselves.
Most of Deuce's temper tantrums come from the desire to go outside. He loves going to the park, playing with the little girls next door, and even riding his new tricycle around, but he also has no concept of the fact that we cannot play outside at 9 at night or even that when it's raining, we cannot play outside. In order to ease the transition and shock of going inside, I have started giving him a count down something like, "OK Deuce, we're going to ride the bike 5 more times, then we're going in…4 more times, then we'll go inside…alright Deucey, 3 more times and then we have to go inside and eat dinner remember…etc etc." I have found that preparing him to go inside instead of instantly saying "ok time to go in" helps to eliminate the temper tantrum when it's time to go inside.
When did your child begin temper tantrums? How do you handle them?