Picture this: after years of watching your best friend and your brother fall for all the wrong people, they finally fall head over heels in love with the right person – each other! It's the type of story you only hear about on TV sitcoms or in the movies. Only for me, this happened in real life – my life. Yes, just last month, my best friend and older brother exchanged wedding vows in front of family and friends. It was such a beautiful day for so many reasons. The tears that were shed were definitely happy tears, reminiscing on the journey that got them to that very day.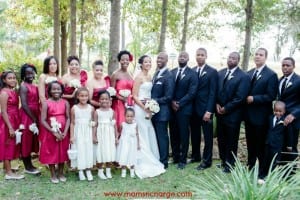 My girl friend and I met in 2001 when we were in undergrad, and by 2002 we were nearly inseparable. Since we were on such a small college campus, it didn't take long for us to build a friendship that would inevitably last a lifetime (little did we know just how the term "lifetime" would unfold). Not long after we graduated, we got our first apartment and moved in together. We were both so happy to just have our own space, and to be able to come and go as we pleased (sorry mom & dad!). In 2005, she honored me by accepting one of two roles as Maid of Honor at my wedding. I always knew I would return the favor for her one day. But I never imagined that it would also mean standing by my brother's side as well. Even though I've actually had people say to me that they would never want to be in a similar situation as myself, I can think of plenty of reasons why I wouldn't have it any other way.
For one, I can stop holding my breath. When my brother moved back to the east coast a few years ago, I started noticing that he was getting more and more invitations to certain things that my friend would normally invite me to. When asked, neither of them initially admitted that they had a thing going on, but I knew better than that (did I mention they dated several years before, and had always maintained contact/friendship?).
Click here to check out the rest of this post!

Then come back and tell us about your experience. Have you (or anyone you've known) experienced a similar situation with your best friend marrying your brother/sister? What made it a favorable or unfavorable situation?
**All photos taken by the lovely & talented Mrs. Kelly Sauer. If you are in the Charleston area, do yourself a favor and check her out! You can also check her out on Facebook.**