Before I had kids, I was not nearly as conscious about the food and products I was putting in and on my body.  Once I made the decision at the beginning of this year to stop putting chemicals in my hair, I then began to take a closer look at the foods I was eating and the products that my family and I were using.  But I have to say: the thought of what was inside my little bottles of nail polish never even crossed my mind — until I decided to try a little water marbling technique on my nails that I had found on YouTube.  I was so shocked at what transpired, I had to whip out my phone and start recording.  The results may shock you as much as they shocked me:  Nail Polish Gone Bad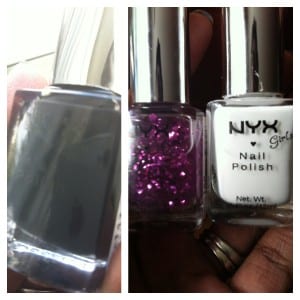 The brand of nail polish I used for this particular "experiment" was called NYX.  Needless to say, they were all tossed in the trash shortly after I shot this video.  I figured that if it could burn a hole through a plastic cup, I wasn't going to continue using it to see what it could possibly do to me.
After showing my video to some friends of mine, they agreed that I definitely needed to put this info out there for others who are as clueless as I was.  But apparently, this information has been out there for a while, just maybe not as publicized as it should be.  I found this article on the "Big 3 Toxic Chemicals" which was written back in 2007.
For a quick glance at the safe(r) polishes to use, here is a quick cheat sheet (in case you need to throw all, or most of your nail polish out like I did):
"3 Free" Nail Polishes: No Dibutyl Phthalate, Toluene, and Formaldehyde
American Apparel, Avon, Butter London, CND, Deborah Lippmann, Elizabeth Arden, Essie, Estee Lauder (+ no formaldehyde resin) Hard Candy, Lancome (+ no formaldehyde resin), China Glaze, Le Metier, L'Oreal, Lippmann Collection (newer formula), Maybelline Salon Expert, M.A.C. (+ no formaldehyde resin), Nars (+ no formaldehyde resin), Nicole, OPI (newer polishes are safe, but some hardeners use formaldehyde), Peacekeeper, Priti NYC, Spa Ritual (+ no formaldehyde resin), Rescue Beauty Lounge, Revlon, Rimmel, Sally Hansen, Spa Ritual, Wet 'n' Wild, Zoya (+ no camphor)
"5 Free" Nail Polishes: No Dibutyl Phthalate, Toluene, Formaldehyde, Formaldehyde Resin, and Camphor
Chanel, Dashing Diva, Dior, Givenchy, Hopscotch Kids, L'Oreal, Nubar, Revlon, RGB, Scotch Naturals, Uslu Airlines
This list was compiled from different web sources so is not intended to be all-inclusive.  If you see any polishes that are not on these lists and should be, please let me know in the comments so that I can update the list.