This past weekend, I attended the Blogalicious conference where we had the opportunity to see a screening of the new movie, Beyond The Lights. I didn't really have any expectations going in because I hadn't seen the previews beforehand. I did know that I was tired and the over-sized leather recliners in the theatre were inviting me to take a nap (after a long day of travel and then conference sessions). But I can honestly say from beginning to end, once the movie started, the idea of a nap quickly went out the window.
Although this film was written and directed by the creator of Love & Basketball, this is definitely no sequel. There really is no comparison for the emotions and the layers of realness that Director, Gina Prince-Bythewood brings out. This movie stars Gugu Mbatha-Raw and Nate Parker. And let me tell you: they were phenomenal together. 
Beyond the Lights is the story of Noni, the music world's latest superstar. But not all is what it seems, and the pressures of fame have Noni on the edge  – until she meets Kaz Nicol, a young cop and aspiring politician who's been assigned to her detail. Drawn to each other, Noni and Kaz fall fast and hard, despite the protests of those around them who urge them to put their career ambitions ahead of their romance.  But it is ultimately Kaz's love that gives Noni the courage to find her own voice and break free to become the artist she was meant to be.
Check out the trailer if you haven't already:
I think the Style Medic summed it up nicely: "I loved that this story is not just about a pop star, but about two people who are trying to find themselves and happen to find each other in the process." This film was about self-discovery, courage and living in your truth. Beyond The Lights encourages you to choose life. Things may not always go how you want them to, but you have the power to create the life you truly want and deserve.
As conference attendees, not only did we get to screen the movie but we also got to chat live with Director, Gina Prince-Bythewood. She was so nice and yes (as she stated on her IG page) we wanted to jack her favorite pair of Gucci boots from her initially, but then it turned into a great conversation from there. The conversation started with me asking her if she was having a Twitter party to promote the movie (in which we had to happily explain what it was), and concluded with us planning for one this week. Actually, it's happening tomorrow. And we've got some ah-mazing prizes in store from Fandango, Relativity Media and Koils By Nature.
We all know that opening weekend can make or break movie. After watching it, I don't think that'll be a problem here. But let's do our best to support Gina and the cast of #BeyondTheLights. Join us for a LIVE Twitter party with Gina herself, where she will tweet live and answer your questions.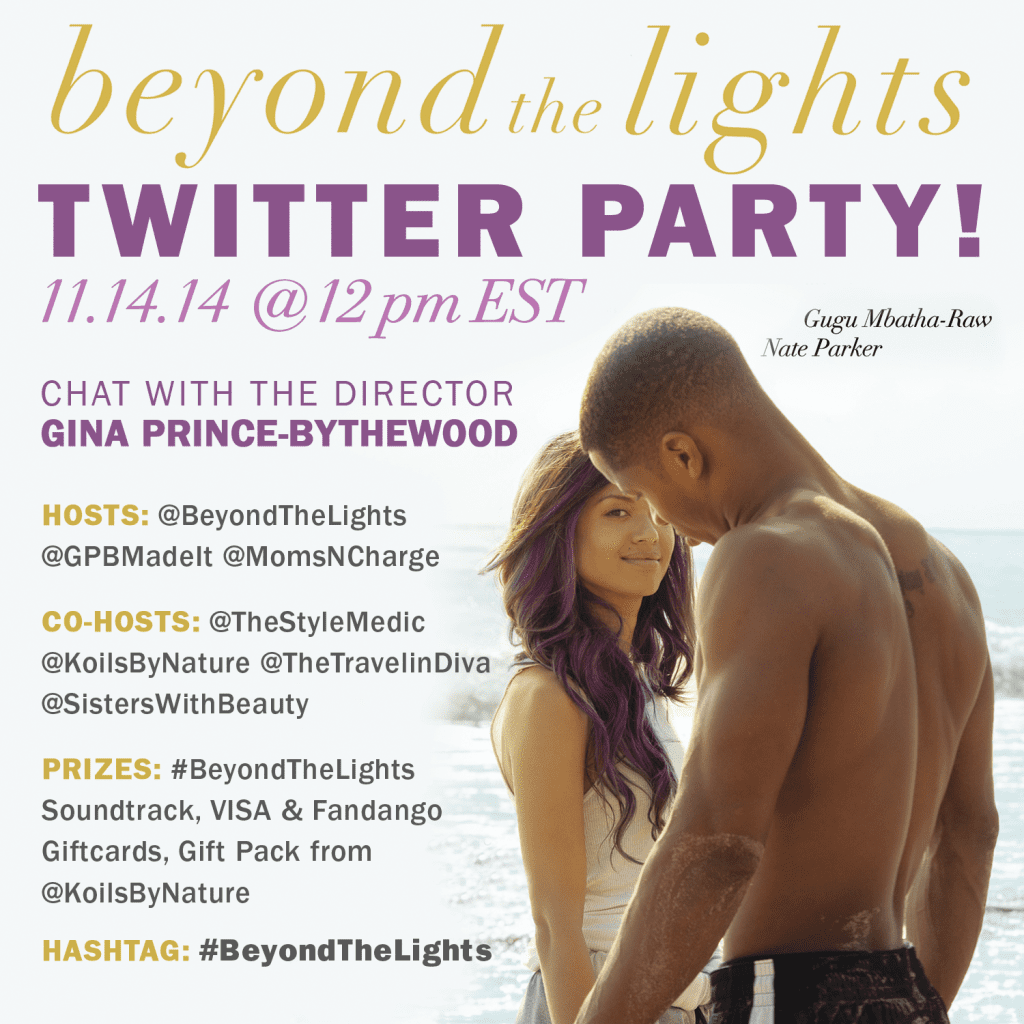 ---
Disclosure: This is not a sponsored post, however, I am being compensated to co-host the Twitter party. All opinions are my own.