Being a mom is one of life's greatest blessings! But it can also be overwhelming, especially as a new or expectant mom. There are so many things to think about, products to choose from, and just overall, an abundance of options when it comes to bringing a new baby into the world. When I think back to my first pregnancy eight years ago, there weren't a lot of events that catered to who I was and what I needed at the time.
This is why I am super excited about this upcoming Saturday, where I will be co-hosting the Baby Bash & Bling Expo right here in Washington, DC — a fabulous concept that embraces glam and mommyhood under one umbrella. What better way to ease into motherhood, than to be surrounded with a room full of other women who are doing the same? This is more than just another event. It will be THE destination for expecting moms and new moms all over the metropolitan DC area, where chic bumps will gather to laugh, chat and get pampered.
I'll be co-hosting the event along with Monica Byrd (the FLY mom and brain child behind this fab event, as well as the Haute Mama Haute Experience I co-hosted last year), Markette Sheppard, TV Host of Great Day Washington, Beauty Maven and Entrepreneur of Messenger Beauty. Markette has also been seen on NBC's TODAY show, Live! with Kelly & Michael and VH1's 'Buzz'. Joining us is the amazing Riche Holmes Grant (whom I first met over the summer at Weekend Startup School), Creator of Smart + Stylish Baby and Mommy Gear – BambiniWare, Martha Stewart American Made Brand Partner, Designer + Martha Stewart Contributor.
WHEN:

Saturday, OCTOBER 10, 2015 from 10:00am-2:00pm

WHERE:

The Loft located at, 600 F Street, N.W., Washington, D.C. 20004 (to be held on two intimate floors of exhibitors, attendees, beauty, style and more) 
We are expecting a packed room, containing some of the most engaging and stylish expecting moms and new moms, and are eager to have you engage with these women.
The "Bump the Runway"™ fashion show features a collection from Bella Gravida (a maternity clothing subscription rental service for the fashion-savvy woman) and Clothed by Ivy Boutique (a fashion forward clothing brand for everyday moms), Mommy Branded Apparel from LuLaRoe while showcasing our love for the expecting dad with daddy scrubs from Daddy & Company!  Bump the Runway models features LMG Artistry makeup salon and Shear Radiance hair boutique as the Official Glam Squad. The fashion show is produced by Founder & Executive Director of Special Events, Maggy Francois, LLC.
Guests at the Baby Bash and Bling Expo can enjoy:
the Beauty and Bump Bar with lash services from Lash Moi
Interactive session showcasing 'Fab Frocs: How to Achieve A Successful Dry Twist and How to Extend the Life of Your Hairstyle' by EDEN BodyWorks
'Yoga 101 for Pregnant Moms and New Moms' from Spiritual Essence Yoga
'Fun Still Happens: Finding the Perfect Sitter as a New Mom' by Urban Sitter'
Financial Planning and Management Beyond the Baby' by Primerica'
'Shifting Through as New Parents' by Postpartum Neonatal Coaching
'Embracing Your Holistic Side as a Mom with Natural Oils' by Hope Smith
'The Mommy Concierge: Navigating Through Mommyhood Moments' from the Mommy Concierge
Money and Mommy Maven financial segment from financial expert Dominique Broadway
The expo will feature the most recognized fashion and style brands with products and services in the Fashion and Style Lounge during the event.
In addition, guests that attend the expo can look forward to discovering new and interesting parenting tools, wellness and health products, fashion trends, financial and education brands, nutrition tips, and baby furnishings. Guests can also look forward to glam swag bags and an opportunity to visit the signature Healthy Bites Station to satisfy their bump cravings. Complimentary samples, coupons, as well as baby inspired games, give-a-ways, and raffles will also add to this exciting afternoon of mixing and mingling with moms-to-be.
Presenting partners include Babies R Us, WaterWipes, Happy Family/Happy Mama and The Bump.
So what are you waiting for?! Be sure to go here to register today, or click on the image below: www.BabyBashAndBling.com. The Baby Bash and Bling Expo will also be coming to Chicago and Houston so stay tuned!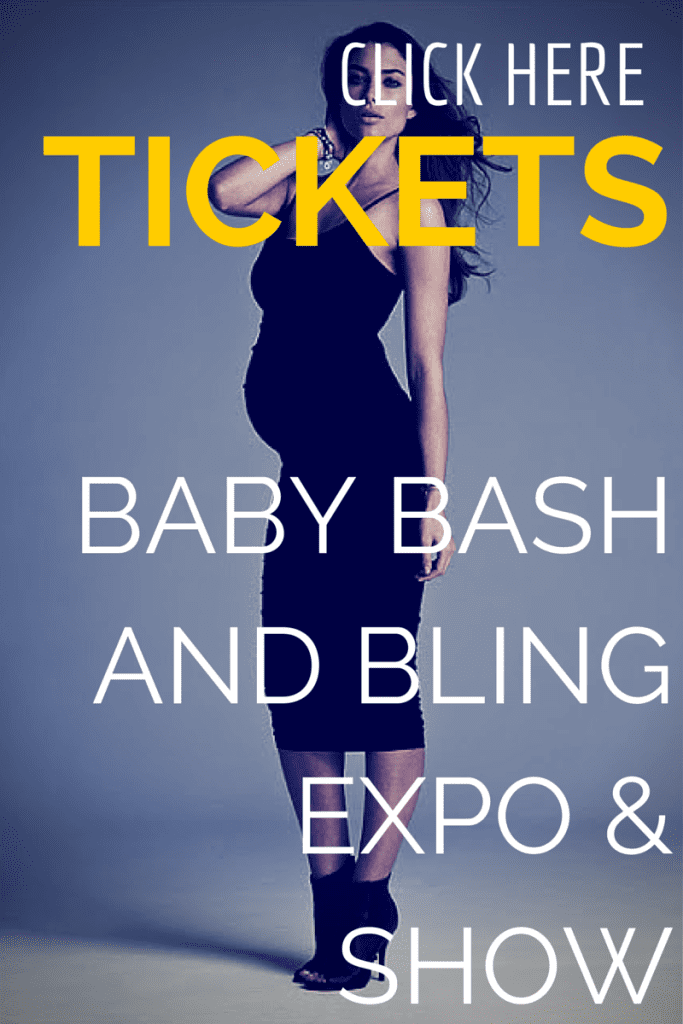 Comment below and let me know: What are some of the best pregnancy products or events you've seen?