Disclosure: This post is part of a compensated campaign for the NBC A.D. Series, The Bible continues. All opinions are my own.
---
For as long as I can remember, I've always looked forward to Easter. And not because I looked forward to hunting for Easter eggs, or taking pictures with the Easter bunny. It's because even at a young age, I understood the power of Easter — the one Sunday of the year where there is standing room only at nearly every church.  The day where everyone gets decked out from head to toe with their Sunday's best. No judgement here at all.
But when you really think about the true meaning of Easter, and just how much Jesus sacrificed for us, it really is amazing. I think about the love I have for my children. And I can't imagine sacrificing them for any reason. I can't imagine allowing them to go through the pain that Jesus had to go through so that we could all be saved.
I'm super excited to partner with NBC to promote this incredible series. I had the opportunity to watch the first episode in A.D. The Series – The Bible Continues. This was the most powerful depiction of the Crucifixion and Resurrection I've seen. It felt almost too real and definitely takes you on an emotional roller coaster. From the set, to the characters, it brings the bible to life in a way that is unique and masterful. Personally, I can't wait to watch the entire series. And I encourage you to tune in to watch as well!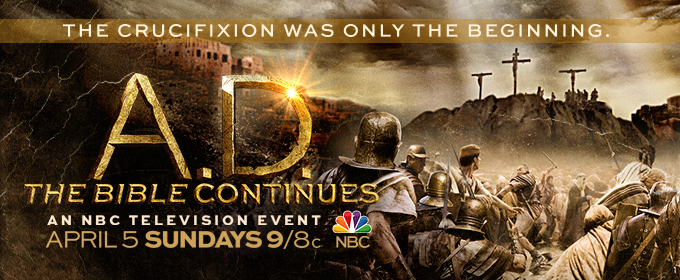 This Easter Sunday (as in tomorrow), April 5th, 2015, join millions of viewers for the premiere of A.D. The Bible Continues and continue on a 12-week journey through what would become the most powerful global movement in history – the rise of the Church.
A.D. The Series – The Bible Continues starts with the Crucifixion and The Resurrection –catalysts that altered history. What follows is the epic tale of "A.D." chronicling several of the most intense and tumultuous decades in history. The complicated birth of the early Church was a time filled with enormous faith, persecution, political intrigue, brutal Roman oppression and the desperate Jewish revolt. The entire world was transformed, and the course of human history would be forever changed.