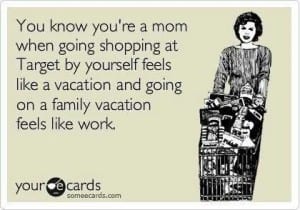 I "borrowed" this picture off of a friend's timeline from Facebook, and I just smile every time I look at it.  It reminds me that I am not alone in the crazy world of motherhood.   This picture is the truth.com.  I've literally already started a packing list for our family vacation that we're taking at the end of September!  But it'll be our first family of five vacation (six including my awesome mother-in-law), and who else will make sure it goes off without a hitch?!
After coming across this picture, I no longer feel guilty for dumping the kids on my hubby and sprinting out to the store to "get a few things".  When I feel like I'm at my wits end, the kids are throwing tantrums left and right, I can't seem to get all the laundry done — there is nothing better than running off to Target to wander around aimlessly.  Most of the time, I don't even have an agenda or list of items that I necessarily need.  I just need to push that red cart around the store and browse at my leisure; no little hands tugging at my legs, no breaking up fights, and no yelling "NO!".  It's just me, my cart, and I.  And I'm perfectly fine with that! 🙂
So what's your favorite mommy "vacation" spot?  Target? The Nail Shop? Hair salon?