As you may know, Christine, founder of Moms 'N Charge, had the pleasure of attending Disney Dreamers Academy at Disney World over the weekend and she was generous enough to share a bit of her trip on Periscope. (Insert thank-God-for-Periscope-happy-dance, lol). I can only imagine what the experience must have been like attending live, cause I sure got something out of it just watching on my phone. What I want to share with you is a lesson I got from one of her Scopes (which you can catch over at Katch.me, (see what I did there? Lol), which is DARE TO DREAM.
For those who don't know, Disney Dreamers Academy is a career and mentoring event for students, students who have dared to dream their dreams to the point of speaking of them in absolutes. Take that in for a second…they're not saying "I hope to…, It would be nice to…" They're saying "I am a future…, I will…" End of story, period. That's someone who dares to dream. Mind you, many of them don't come from privileged backgrounds where paying for college is a done deal, however going to college is.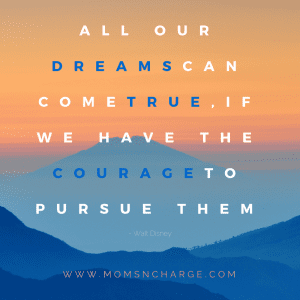 For some reason as we grow up and "life" takes over, we sometimes forget about the dreams we had growing up. And if we do remember them, we doubt that we can actually achieve them. There's a reason the bible says to believe like a child (Matt 18:3) because children have an innocence about them and simply believe. The adult equivalent is unfortunately labeled naive, which is defined as "showing a lack of experience, wisdom, or judgment." (Insert eyes wide open emoji).
So my motivation to you today is to, no matter what anybody thinks, no matter what label they want to give you, dare to pursue your dreams!
I know that dreams change as we change, but for fun, share what your dream was when you were 12 🙂