We're back for another edition of "Tasty Thursdays", this time with the recipe for Chili Beans Soup. Check out the recipe below and be sure to check back every other week for more recipes from Tosh.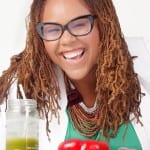 The following post was written by 
Tosh Patterson (AKA the Chief Healthinista).
Tosh Patterson is CEO of Be Well, Eat Well, Live Well, a company dedicated to helping busy women lead healthy lives and get S.K.I.N.N.Y. ®
Tosh worked hard to climb the corporate ladder but left her health neglected along the way resulting in a 300 pound body. While on her healthy journey, Tosh began to inspire others towards wellness.
Tosh is now known as The Healthinista, not because she's a size 4, but because she lost 70 pounds and continues to strive forward. Her goal is to help women of all types snatch back their lives and win back their bodies. 
You can connect with Tosh on Facebook, Twitter & Pinterest.
Hey Moms,
You're on the go…I know. You have so many competing priorities and, some nights, the last thing you wanna fret about is dinner.
Well this chili can save you the stress; soups are AWESOME because they can be simple, easy, quick and delicious.
Also, this chili tastes wonderful as is, stuffed into a baked potato or served on top of romaine lettuce. Just drain off some of the broth, place over lettuce, and add your favorite toppings like cheese or sour cream.
Three meals in one should make any mom smile!