If you have not heard about Lucinda Cross and her upcoming Activate Conference, then you need to stop what you're doing and keep reading! This is NOT your typical "go to feel good" conference. This is not a conference to attend to just go and get inspired. This is not a conference to attend if you're just looking for some motivation. While you will inevitably receive all of these things, but most importantly, you will be ACTIVATED!
Think about it: what have you always wanted to do in life or business but pushed it off for a better time or better circumstance? How long have you been waiting for that better time to get here? Chances are, you're still waiting. Chances are, you're sitting on a lot of goals and dreams but you don't know how to make them a reality. You don't know how to activate them! Well, that's what this conference is all about: creating an action plan for your vision. Stop waiting for later, now is the time!
Lucinda has put together a dynamic one day, action-packed, inspiration-filled, faith-filled conference in order to get YOU moving! The conference will be focusing on where women stand today and how they can become bolder, stronger, more effective and courageous leaders in the future.
Featured speakers at this conference include Les Brown, Malinda Williams, Tiona Von Johnson, Christine Carter, Tiffany "The Budgetnista" Aliche and more! This is an event you can't afford to miss!!!
The bad news is that registration is closed. The GREAT news is that Lucinda has made it possible to register for those who still want to attend. If you are serious about activating your life, simply send and e-mail to get your ticket TODAY at lucinda @lucindacross.com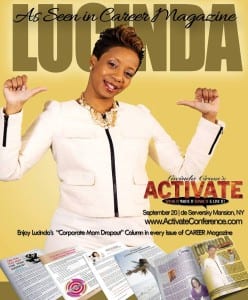 Lucinda Cross is a Visibility Coach & Platform Activator specializing in supporting women in leveraging and monetizing their message. Basically writing that book, creating that program and delivering a powerful and meaningful message to the masses.
Mrs. Cross has been featured on ABC, NBC, Black Enterprise, NY1, NY Daily News, Essence Magazine, Tom Joyner Morning Show, WLIB the Al Sharpton Show, Black Star Web, and over 100 internet talk radio shows and several blogs including Babble.com, Top 50 Mompreneurs 2012, #2 on the Top 100 Mompreneur Blogs to follow by www.blogtrepreneur.com, and more.
Stop making excuses and claim your success! I've had the absolute pleasure of working with Lucinda and I have no doubt that you will receive way more than you expect. The only way you'll be disappointed is if you don't attend. Check out this special video message from Chief Activator herself, Lucinda Cross.
Are you ready to get activated? Comment below letting me know why you activate. I hope to see you there!