I'm so honored and excited to be a part of the Miss Jessie's Book Blog Tour with some other unbelievably amazing women. There is something magical when sisterhood comes together in love and support. And in this case, we are rallying around our sister Miko Branch, Co-Founder of Miss Jessie's.
Miss Jessie's book: Creating a Successful Business from Scratch – Naturally comes out next week! Let me just set the record straight on one thing: this book is so much more than just hair. This book is about legacy, sisterhood, empowerment, and entrepreneurship. It's straight up real talk, no chaser. It's funny, it's relatable, it's inspirational. The only problem I had with this book is that it kept me from sleeping because I had to keep turning the pages to find out what happened next.
What I truly appreciated in reading this story was the authenticity in which Miko wrote about her and her sister's journey to the mega brand that we know Miss Jessie's to be today. As someone who grew up with four sisters, my heart ached for Miko when I first heard of the untimely passing of her beloved sister, Titi. It is so evident within the pages of this book, the unbreakable and loving sisterly bond that the two shared. I am truly inspired to a new level just seeing how Miko continues to push forward, in order to reach down and help other aspiring entrepreneurs to reach the level of success that they're destined for. I just pray that seeing how others are being impacted by their story, it will continue to give her strength to push forward. We love you, and we appreciate you, Miko.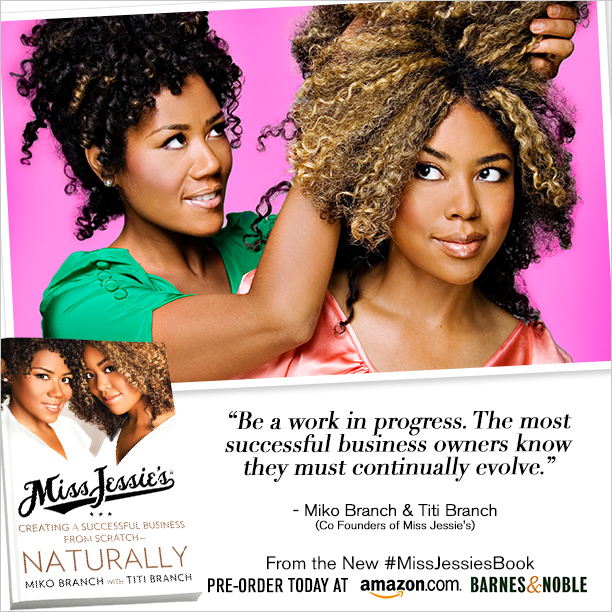 "The greatest secret to success, is helping other people to become successful." And this is exactly what Miko is doing with this book. This isn't a "nice" read, this is a must read for any woman looking to follow their dreams and create a successful business for themselves and their families.
As an entrepreneur and  a mom, I always look to what other successful mompreneurs are doing. I know that it's possible because I see women like Miko Branch making it happen, and making it happen successfully – not having to sacrifice running the business of her dreams to be a great mother. When I started MomsNCharge.com that was exactly my mission: to inspire moms to go after their dreams and goals; not when the kids start school or graduate from college, or get married, but now, today.
And to motivate you even further, I got to ask Miko a few questions regarding how she juggles motherhood, life and business:
How do you juggle motherhood and entrepreneurship?
Miko: Juggling motherhood and entrepreneurship is definitely a challenging balance, but if asked to prioritize my duties in order of importance, motherhood always comes first. With this priority in place, essentially everything I do revolves around my son's needs and his best interest. I try to do business during the hours he is in school or participating in enriching extra curricular activities, so when he does come home I am in a position to give him my full attention and spend time with him.
This isn't a new phenomena in my household. When my son was first born, my sister and I brought our hair salon business into our home where I raised my son, so I could be near him as often as possible during his childhood. I never wanted to have to go to daycare or be raised under the supervision of a babysitter, so I did hair in my house. This definitely is evident of what my priority is when it comes to motherhood and business, and this sentiment still holds true as my son ages and my business continues to evolve and prosper.
How do you deal with mom guilt?
Miko: I actually have very little mom guilt, because I am an incredibly dedicated mother. As I mentioned before, my son is my first priority, so I dedicate much of my time to him, working my business schedule around his schedule as best as I can. For the most part, I do get a lot of mommy time with my son. However, there are the occasional phases in which the workload is heavier than normal, and I want to spend more time with my child but have to adhere to other obligations. Though this can create momentary, mild sense of guilt, I just remind myself that the professional goal I am working towards will ultimately benefit him in the end. Also once the wave of heavy work passes, I always make a strong effort to make up for the lost time with my son, by doubling up on the time with him and doing something special.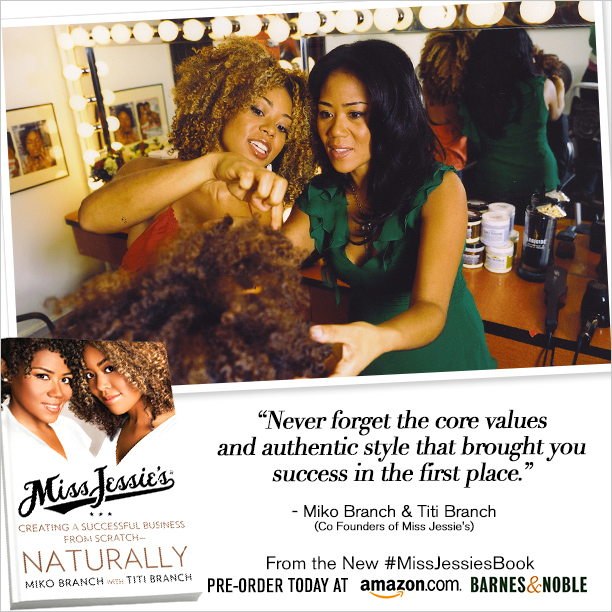 How do you take time out for yourself with your busy schedule?
Miko: I definitely have to make a conscious effort to carve out some time for myself, because if I don't, there is always something else that comes up, for me to do. Setting aside a little "me time" is important to keep myself grounded and relaxed, so that when the pressure is on, I can navigate towards an effective solution efficiently. I do this by getting up incredibly early and taking a quiet walk around my neighborhood, doing some cardio, meeting up with friends, or even treating myself to a nice facial. My schedule has been particularly rigorous lately and between running Miss Jessie's and our many projects, including the upcoming release of my new book, Miss Jessie's: Creating a Successful Business from Scratch, Naturally, making time for myself can get tricky, but I definitely have to make it a priority as well.
What two pieces of advice can you share with other moms who are trying to build a business while still being a great mom?
It is all about how you prioritize, and being a good mother should always be number one. If you lead with that, then your business will end up supporting everything you are trying to do, as a great mother. If this means moving your business closer to where you also plan to raise your child, that is an option you can make happen. If you have to shift your work schedule to operate during hours that your child is at school or asleep, giving you and your child more time to spend together during the day, that is another adjustment you can make to accommodate this priority. So if you have your priorities in place first, it is possible to find this balance between being an amazing mother and successful business woman. Everything in your life will fall into place as it should, allowing you to really have it all.
---
Thank you so much Miko for sharing these words of wisdom with us. And thank you to the entire Miss Jessie's team for allowing me a sneak peek into this incredible story. Rest in Paradise Titi, knowing that Miko continues to carry the torch.
I want to share the inspiration, sisterhood and empowerment of this book and the Miss Jessie's products with one of you! Here's how to enter the giveaway (you MUST complete both steps!):
1. Fill out the PromoSimple widget below with your information.
2. Leave a comment on this post telling me about how you plan to leave a legacy for your family, and generations to come.
Miss Jessie's: Creating a Successful Business from Scratch—Naturally
 is now available on Amazon.com.
---
*Disclosure: I was given a free advanced copy of this book & Miss Jessie's product for this review. I have included affiliate links. As always, all opinions are my own.