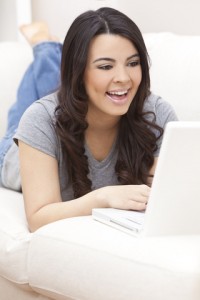 Whether you're looking to start a blog for personal or professional reasons, making that decision to actually start one (and commit to it), can be a heart pounding experience. I've come a long way since I first started my blog less than a year ago, but I have so much more to learn. I can, however, share what I do know since I have so many friends that have expressed their intent/interest in getting a blog started for themselves. I recently had a conversation with a friend, letting her know that she should start a blog because there are people out there who are waiting and need to hear her story and testimony. I shared that by starting a blog, it could create the platform needed for her voice to be heard.  The problem? How does she get started? What will she write about?
It can definitely be a frightening thing to put yourself out there for the world to see. One of three things can happen:  A) People will read it and love it. B) People will read it and hate it. C) People won't read it at all. I'm a firm believer in the law of attraction, and the power of positive thinking, so just keep option A in your mind, and like Nike says: Just Do It!
As a fairly new blogger myself, I decided to put together the top 5 things you need to put in place in order to get your blog up and running in just a few short hours.
1.       Choose a domain name (& check to see if it's available).
When choosing a domain name, be sure to consider your long term goals. Will this be a personal blog or a blog to promote/discuss your business? Either way, you want to be sure to consider the following: the name should either be easy to remember and avoid using numbers and dashes (unless it's with good reason). For example: wemakekidssmile.com is easier to remember than drsagutosmithcohenberkeley.com. But the first option also describes the type of doctors that you are referring to. Use your best judgment and get a second or third pair of eyes and ears to weigh in before you finalize the name.
TIP: Be sure to go into a site like Bluehost or Go Daddy and type in your domain name into the search field. This will tell you instantly whether or not that name is available (as opposed to just typing it in the web browser).
2.       Pick a hosting site (such as dreamhost, hostgator, and justhost to name a few).
What is a hosting site you ask? That would be the tool that basically houses your domain and can average about $30 for the year. Click here to view and compare a list of the top 10 hosting sites.
3.       Just blog. You want to get started, but have no clue what to write about?
Before I started blogging, I looked at it as something that I had to write an endless amount of content for. But then I realized that people blog about anything and everything. A blog post could be a paragraph, a picture & discussion of said picture, a video & discussion of said video, etc. Keep a journal on hand to jot down notes and ideas throughout the day. Your inspiration can come from anywhere. The topics are endless. Pretty soon, you'll have more to blog about than you do time. 🙂
4.       Be consistent.
Determine which days you want to publish your posts. You can create them ahead of time and then schedule them in advance to post on those days. Whether it's once a week, or three times a week, just be consistent in your commitment to blogging.
5.       Have fun and be authentic.
Nobody wants to get to know an imposter. So whatever you blog about, be true to yourself and allow your personality to shine through the computer screen. As with everything else, make sure that you are being true to your authentic self. Don't try to be someone you're not. It's not attractive, and does nothing to boost your credibility.
So what's holding you back? Go start that blog…now! 🙂 If you're a blogger, what tips can you share to get a new blogger started in the blogosphere?