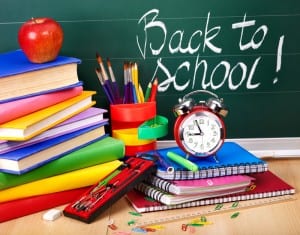 Well folks, we are almost one week into August already and as much as some of us are in denial, it is that time again.  It's time to start getting our little ones (and not so little ones) ready for the new school year.  And in some areas across the country, school is already in session.  I remember growing up as a kid in elementary school, and the school supply list being pretty short and standard.  You know, a back pack, a couple of number two pencils and a binder.  Paper towels and reams of copy paper were definitely NOT on the list…and especially not in kindergarten.  But boy have times changed!  Instead of solely focusing on saving for a college tuition, it seems that parents nowadays need to set aside a "Grade School Fund" for supplies, field trips, school activities and all of the birthday parties they get invited to in between.
I don't know about you, but my kids aren't even out of pre-school yet, and we've already spent what feels like a college tuition on birthday parties (theirs and others), school related events, pre-school tuition, etc.  This is one time I'm truly thankful that we've never had to send our kids to daycare because that is a whole other fund in and of itself.
But seriously, maybe there are some teachers out there that can fill me in because I really have no clue.  What is up with these massive school supply lists?  I understand there being budget cuts, but are they going to be asking students to bring in their own desks and chairs next?  Here is one list I found through a google search (although I won't need to worry about it until next year thanks to Maryland's loser law about turning five by September 1st): Kindergarten packing supply list.
A good friend of mine also posted on her Facebook page last year what her then fourth grader needed:  Disinfecting wipes? A kitchen sponge?  It's one thing to ask for cleaning supplies, and yet another to actually command the brand you want parents to buy.  What if the parents can only afford the off-brand?!  At this rate, homeschooling is starting to become a more appealing alternative.  At least then, I'll already have the cleaning supplies checked off the list.
For some folks, there is still time to take advantage of state-wide, tax-free shopping days.  And if you have school supply lists anywhere near what's been mentioned, you can definitely use all of the breaks you can get.  The following states still have a chance to shop  tax free for a few days: Connecticut, Georgia, Maryland, New Mexico* (last day), Texas.  If your state is not listed, you may check here to find out more info: Tax free shopping days by state.
If you're a parent, what are some of the oddest things you've seen on your child's school supply list?  If you're a teacher, I would love to hear your take on the modern day school supply list.