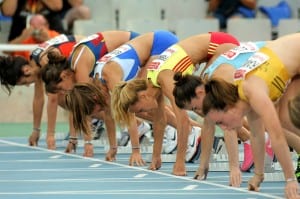 One of my favorite times growing up as a child, was watching the summer Olympics, and I still enjoy them today.  But this year makes them even more special because I'm able to enjoy them for the first time with my own kids (well at least the two older ones as the one-year-old could care less at this point).   And it absolutely makes my heart dance when my four-year-old tells my two-year-old that we can't change the channel because he wants to watch the Olympics!  And he just might get this from his mother: but he doesn't care if we're watching diving, swimming, beach volleyball, basketball, or gymnastics…he loves it all (*insert proud mama dance here*).
I absolutely love to hear the "before they were Olympians" stories of the various athletes, and the blood, sweat and tears that they have had to endure in order to reach the very point that they are today.  This is not because I'm heartless and like to hear about other peoples' pain.  But it's because they all have one thing in common: they've trained, and worked hard for many years to be the absolute best that they can be.  Not one of them became an Olympian overnight.  I'm sure a lot of them wanted to quit or give up on several occasions because it became too hard, too stressful, or too painful.  But they didn't give up and they didn't quit.    They had a dream and now they're living through it.
Watching them has inspired me to revisit and refocus on some of my own dreams.  It's reminded me that when things seem to be too overwhelming or unbearable (and they will), it is then that I need to put my head down, and stay the course.  It is then that I need to remember the words to one of the kids' favorite songs on Yo Gabba Gabba: "Keep trying, keepy trying, don't give up, never give up". It's not always going to be easy, but it will surely be worth it in the end.
What inspires you about watching the Olympics?  How can you take that inspiration and apply it to your own life?
**For 24-hour coverage of the London 2012 Olympics, click HERE**