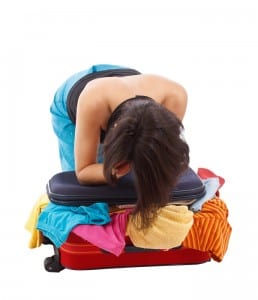 Okay so this image right here pretty much describes how I've been feeling about an upcoming family vacation. This will be our first family of five (six including my mother-in-law) vacation, and we will be on the road for at least nine hours just to get there (driving from DC to South Carolina). I don't even like being in the car for longer than two hours at a time, so I'm having a hard time wrapping my head around having to do it for this long with three young kids. Neither of them have been in the car for longer than four or so hours at a time. So I can't help but wonder how many times we are going to hear the words "are we there yet"?
But before we can even get in the car, there's all of the prep that comes beforehand. There's the shopping, the sorting, the laundering, the packing. Did I mention it's for a family of five? One of which is still in diapers. All of which are still in car seats. So how does one prepare for a trip like this? I know there are so many mothers/families out there that do this all the time (& I have a few friends that come to mind). But as you can see, we haven't been one of them. And that's not because we don't like going on vacation, it's because there hasn't been enough time to do so in the last few years.
The first thing I always do before packing for any trip (whether it's one day or five), is to write out my packing list. But I haven't even gotten that far with this trip probably because I'm dreading that I'm going to look like the picture above. In my mind, I sort of have a strategy in what I need to do, it's just a matter of actually doing it. I've gotten as far as washing and folding all of the laundry but haven't put together what actually needs to be packed.
I would really love your tips/suggestions/words of wisdom in figuring out what I absolutely have to pack in order to keep the kids happy/content/entertained on the trip to and fro. I guess I'm worried that they might be slightly traumatized at the amount of time they will have to spend in the car (heck, I know I will). Our hope is that they'll sleep for most of the ride but how can I make it fun and interesting so that they'll want to do it all over again? Wait…I may need that advice myself. 🙂 We are definitely looking forward to it so I appreciate any and all suggestions. 🙂
What are some things you do to prepare for, and ensure that your family vacation goes off without a hitch? What are some non-traditional things you've done to keep the kids from freaking out and not  wanting to go on future trips?