This post is sponsored by AT&T and the Nation's Football Classic. I have received some level of compensation in addition to tickets to give away. All opinions are my own.
---
Hampton University is where I started my college journey. I graduated from high school in May and by June I was on the campus for a six week pre-college program. I went home for about two weeks and returned two weeks before classes started to begin band camp. Now, let me just say, I was not ready. Being a first-generation American, and my parents not having gone to college, I had no clue about HBCU's (Historically Black Colleges & Universities). I grew up in Gaithersburg located in Montgomery County, Maryland. For most of my life, especially in elementary school, I was the only or one of very few black people in my classes.
So when I stepped on the campus of Hampton University, my entire life changed. I wasn't ready, but boy did I get ready! I started playing the flute when I was in fifth grade and I played all throughout high school. I even went to band practice during my lunch hour my senior year because that was the only time I could fit it into my schedule. I participated in the marching band in high school…in my majority white high school/band. I don't recall ever having band camp in high school, just seeing it in the movies. So when I got to Hampton and started band camp…I was schooled real quick!
For one, I played the flute but had never played the piccolo (shout out to #SilverStreak). So you can imagine my surprise when I showed up with my flute and was told that "we don't play the flute in marching band, we only play piccolos". Yes, the instruments are similar but they are different and I spent the first probably week trying to make a sound out of it. We practiced all day, every day for two weeks straight before school and football season officially started. Where I grew up, we never had to memorize music, let alone dance moves and positions for an entire performance…weekly. But I loved it. I loved every minute of being in the marching and concert bands at Hampton University.
I learned about "'hitting 90's" for the very first time since ever picking up an instrument, when I got to Hampton. As stated in this article, "HBCU bands use a traditional high-step marching style, lifting the knees to 90-degree angles." Oh and don't let the drum major see you not holding that leg up. And if someone messed up, we were all standing in that position until our legs started shaking and sweat was dripping off our foreheads. We stayed out on the practice field long after the street lights came on, just perfecting our march, and working on our stamina. We had to be able to dance, march, and play our instruments while remembering our positions, and of course our notes.
I have so much respect for HBCU marching bands because it is no joke! We put in a lot of hard work. And yes, many times the culture gets criticized for hazing, but it was much more than that. It takes discipline and dedication to do what HBCU marching bands do every weekend on the field during football season, and so much more! I am so grateful for the people that I met and lifetime friendships created from being a part of The Marching Force.
I am most grateful for Mr. Barney Smart, former Director of Bands (Rest In Paradise) who helped me get the financial aid I needed to finish out my freshman year. He was always looking out for his students and going above and beyond. That same year, his son, Tory Smart was my drum major. And this year, he enters his first year as Director of Bands for Hampton University. This family legacy and experience is exactly what the Nation's Football Classic stands for. While I only spent part of my college years at an HBCU, this experience impacted my life in a major way. I can't wait to share these experiences with my children, so that hopefully, when their time comes, they will experience the same culture that I did.
Well everyone knows that the football games are all about the bands — and within the band, it's about that drumline (shoutout to Sticky Situation)! And everyone knows the long-standing history between Howard and Hampton's battle on claiming "the real HU".
So I couldn't be more excited when I was asked to represent AT&T as a Blogger Correspondent for the Nation's Football Classic happening September 18th featuring Howard vs. Hampton. And to make things even more exciting, I'm giving away four tickets to the game (100 level seating) to two lucky winners (two tickets each). Go Pirates!
Here's the scoop for the entire weekend: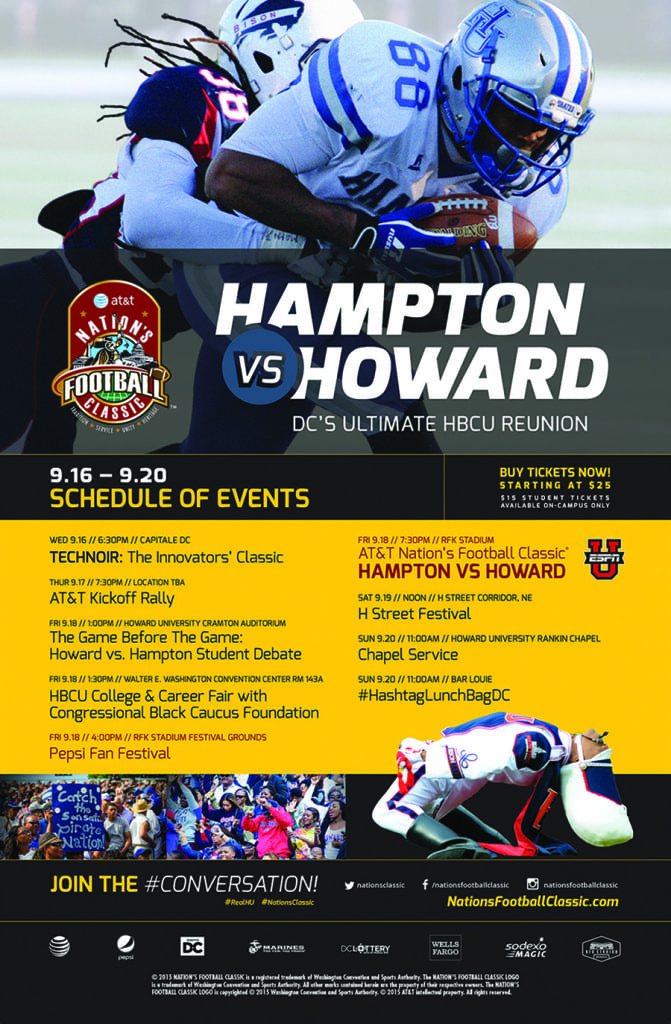 HOW TO WIN:

Leave a comment enter your name in the giveaway widget below. Two winners will be awarded with two 100-level seats to the game.

Comment below and let me know your favorite HBCU game memory or how you carry on the traditions and experiences with your family found at HBCU's?