2016 has surely kicked off with a bang for me! When I first started blogging in 2012, I didn't have a plan in place. I wasn't sure how or if I could make it profitable. Heck, I barely understood the concept of blogging. And while I've had some amazing opportunities, my ultimate goal has always been to use blogging and my knowledge of social media as a platform. I always teach in my blogging courses that having a blog establishes you as an expert. And that's exactly what it's done for me. I have had the pleasure of participating in a few telesummits, and I am super excited about the Money Freedom Now Telesummit taking place this week!
When I decided that going back to the corporate world was not going to work for the vision and life I wanted to create for my family, I knew I needed to figure out what my purpose was. If you've followed me for any length of time, you know that through my posts here like this one, and the book I co-authored with my sister, Whose Shoes Are You Wearing?, I am always talking about the importance of walking in your purpose. So as I started working with more clients, whether it was managing their social media for their business or their live events, I found myself constantly educating them on the importance of having a purpose for every tweet, Facebook post or video. This birthed the name of my business, Purpose Driven Media, LLC (which will be launching very soon so stay tuned).
When I talk about topics like having an accountability partner, and making sure you surround yourself with people who are where you want to be, it's because of opportunities like the Money Freedom Now Telesummit that I'm honored to be a trainer in. This is a FREE 3-day Telesummit with 12 trainers, all curated and interviewed by my friend and former accountability partner/coach, Shayla Boyd-Gill.

First of all, Shayla is amazing in her own right. When my husband and I decided to consider homeschooling our three kids, Shayla became my inspiration (and then she graciously accepted and answered all of my unending homeschooling questions, always with a smile on her face). She had been doing it with her five kids for years while still maintaining a successful multiple six figure business. She inspired me because she was the definition of a FLY mom – she was living/breathing proof that motherhood and entrepreneurship can be done successfully.
So when she invited me to be a part of her telesummit, I was absolutely honored! I will be teaching about my entrepreneurial journey and actual steps that you can take to build a profitable social media presence.
What is Money Freedom? To me, it's the ability to do whatever I want, when I want, without ever having to say no because money is a challenge. It's the ability to give back to the causes that are most important to me without binding limitations.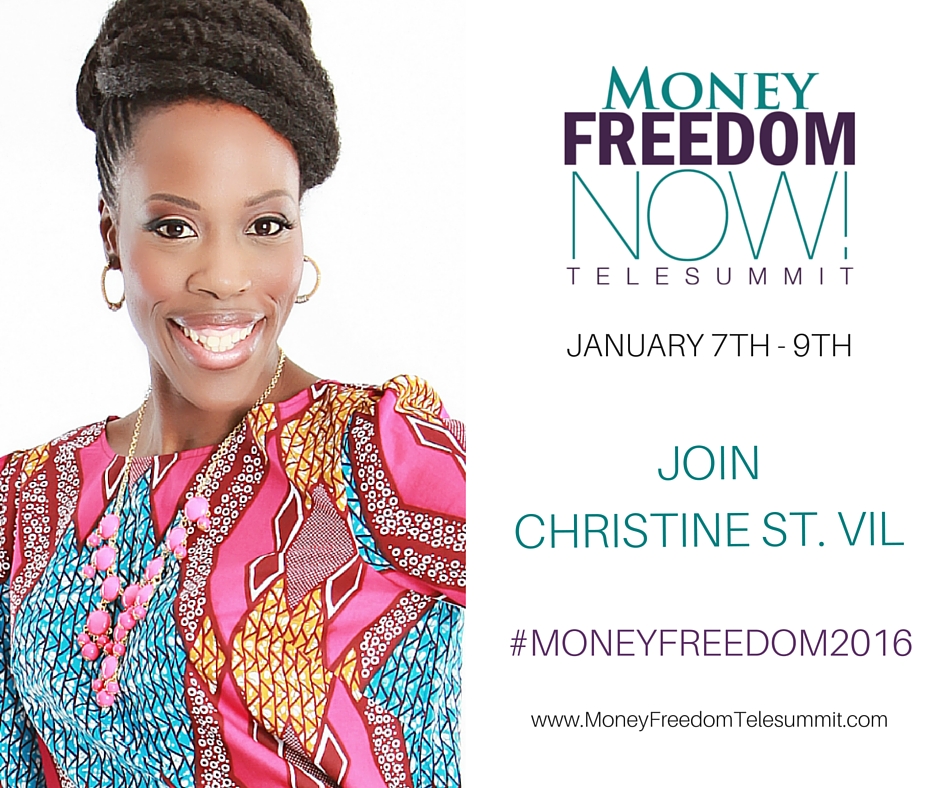 Join 12 experts to learn how to:
 Prepare your mind, body and spirit for wealth
Establish powerful systems, money space, brand and intellectual property
Profit from your connections, social presence, speaking and events
This online event is no joke. You can grab your seat for this FREE event today! You should join us if you are a woman entrepreneur that is ready and willing to get into serious action in 2016.
Are you in? Join us and get ready to shift the way that you think about your business.
Don't forget to grab your seat today! You don't want to miss this one. To check out all of the speaker topics, schedule and to register, simply go to: www.moneyfreedomtelesummit.com.
Once registered, be sure to join the closed Facebook group and share on social media using #MoneyFreedom2016.
Comment below and let me know: what are some of your 2016 non-negotiable goals you're working towards?