This time two years ago, I was searching. I was searching for answers. I was searching for direction. I was finally at a point where I started to feel good about myself and about life in general. But I was missing something and at the time I didn't know what it was. But I soon realized that I hadn't found my purpose yet. I hadn't found the thing that would get me up every morning even without an alarm clock. Even worse is that I had no idea how to even figure out where to find it.
So when I heard about the Get RADICAL Women's Conference, I knew I had to be there. I knew that it was going to be tough to be gone all day for 3 days straight as a nursing mom, but I just knew I had to do it. Have you ever felt moved to do something without really knowing why? I had no idea what would come out of attending this conference, but something was urging me to go, even if it meant attending on my own, which is exactly what I did.
When I think about where I was in 2012, and where I am today, I have to pinch myself. This blog evolved from attending that one conference. Moms 'N Charge™ was birthed from attending this one conference. I've have built lifelong friendships and business relationships just by attending this one conference. By the end of that weekend, I knew that it was one that I would come back to year after year. I knew and told my friends that I wanted to come back and speak at this conference (this being after Doreen made it very clear that she doesn't let just anybody come and speak at her conference LOL).
In 2012, I went to Get RADICAL and took a posse with me! In addition to that, I was chosen to speak on a success panel for Doreen's RADICAL Success Institute. And this year, just two years later, I will be teaching a breakout session at the 2014 Get RADICAL Women's Conference! This was just a crazy dream and goal of mine from the first time I attended. And now it's become my reality. To be listed among some amazing powerhouse keynote and breakoust session speakers is more than I could've ever imagined when I walked out of my corporate office 3 years ago.
I can't even tell you how excited I am that #GetRADICAL2014 will be here before I know it! If you are ready to finally get out of your own way, then this is the place you need to be! If you've never experienced this dynamic event, then you need to click here and register now! But if you still need some convincing, Doreen Rainey has lined up several weeks or Power Calls every Monday leading up to the conference. And it all starts next Monday January 20th! And guess who's up first?!
Click here to register for your FREE access to these Monday Night Power Calls! Below is a sneak peek at what this Monday's upcoming call will cover. It ties right in with our 31 Day FLY Mom Challenge. Have you been finding 31 minutes for your self-care?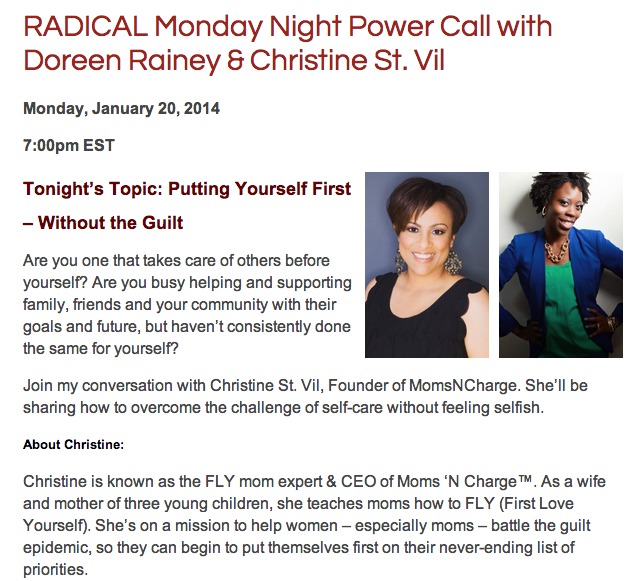 This post contains affilate links