Hey y'all hey! If you're reading this, chances are, you have just started your first day of being forced into homeschooling. Within a matter of days, the Coronavirus pandemic has shut down schools and businesses across the country. And unfortunately, it is only just beginning here in the US.
As a homeschooling mom, I know the anxiety that many parents are feeling around the country and parts of the world with being forced into homeschooling. We started homeschooling when our son (the oldest of 3) was going into kindergarten. We were clueless and just trying to navigate these new waters as we went. So trust me I understand how you're feeling. A while back I shared 10 tips for families considering homeschooling. So while you may have been forced into it, these tips may help you tread these new waters temporarily as well.
Scholastic Inc.
We have been fans of Scholastic for some time and have used them with our children from time to time. They just announced they will be offering FREE virtual learning resource center for grades PreK to 9 with 20 days of lessons across all content areas. Check it out here.
Zoom Conferencing (UPDATE)
Update 4/12/2020: There have been several articles and complaints about the security issues revolving around Zoom (people accessing private meetings). Please use every precaution and monitor your child's online meeting if using this platform until those can be resolved.
Just on Saturday, Zoom CEO, Eric Yuan announced he was giving K-12 students access to his video conferencing tools for FREE! This is major as many schools try to navigate and conform to online learning.
Over on Instagram, I shared several resources that I felt would help other parents. These are all resources that we've either used personally or have been highly recommended by other homeschoolers or educators. So I wanted to make it easier for some people and share the clickable links below in this post.
Audible from Amazon
(Edited 3/26 to add) This was just announced on Tuesday that Amazon canceled the subscription of books and audio stories for children and students of all ages. As long as schools are closed, kids everywhere can instantly stream an incredible collection of stories. This includes titles across six different languages -English, Spanish, French, German, Italian and Japanese — that will help them continue dreaming, learning, and just being kids. Be sure to share this awesome news out!
Homeschool Resources Part 1: Online printables, worksheets, curriculum, etc
These particular resources are great to find worksheets and coloring sheets you can print right from home. If you have older kids that are learning online, there are some great online platforms that you can take advantage of as well. Lots of free and low-cost options here.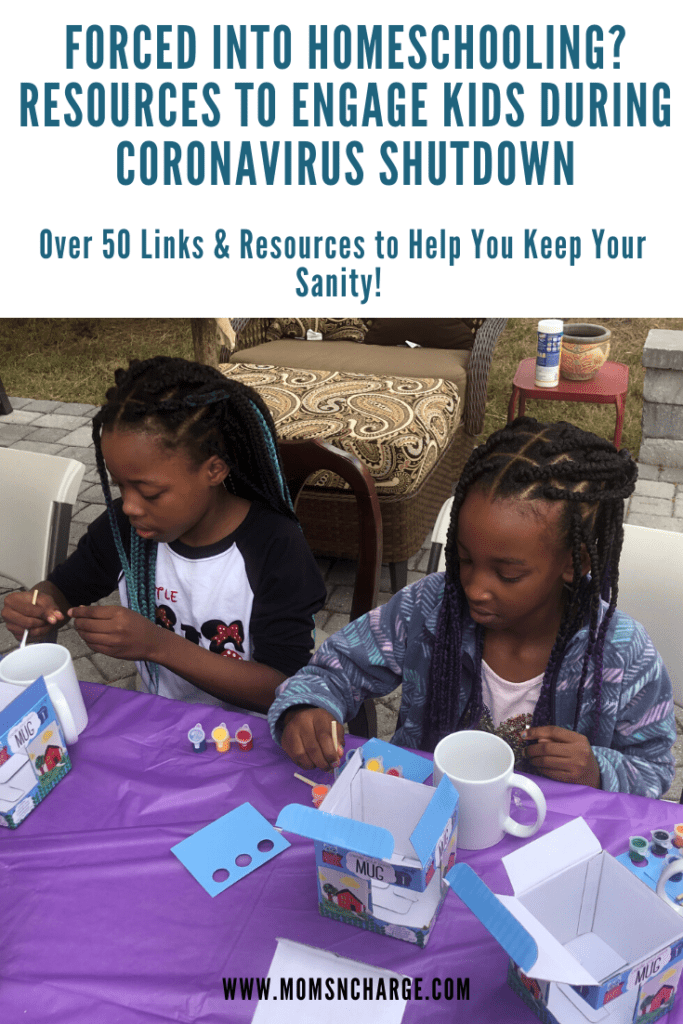 Homeschool Resources Part 2: Podcasts & Blogs
There are a TON of great podcasts and blogs dedicated to homeschooling and parenting. So I've listed some of my faves and again, some that have been recommended to me by other trusted parents.
Homeschool Resources Part 3: Facebook pages and groups
A few things to keep in mind though this Coronavirus transition:
Don't try to take advantage of all of these resources or you WILL go crazy
Give yourself grace: it's ok to NOT have all the answers (heck, I've been at it 7 years and still don't!)
YOU got this!
Make it FUN and use this as an opportunity to spend some great quality time with your kids
Unplug from tech and get creative
Instagram Live video below from my chat with Elle of Cleverly Changing
Below is the full Instagram Live video that was done last night with Elle. There were other resources and questions from viewers shared here that may be helpful to you as well. You can check out the link to her blog and homeschool resources here.